Interested in posting your job listing with Visit Macon?
Please submit your details HERE
*There is no fee to post openings but please note we update on a weekly basis (not daily).
Community Job Board
---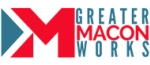 Greater Macon Works | Macon, GA
Begin your journey into finding the perfect career. Greater Macon Works allows you to explore careers, build a resume, view popular jobs in your area, learn about local companies and take online training to build your employment skills and resume. Register today!
Start Your Journey Today: https://www.greatermaconworks.com/ 
---

Careers at Navicent | Navicent Health | Macon, GA
Navicent Health serves a primary and secondary service area of 30 counties and nearly 750,000 persons in central and south Georgia. We have over 7,000 employees and a medical staff of over 590 physicians. As the second largest hospital in Georgia, Navicent Health is licensed for 637 beds, including medical-surgical, obstetric, pediatric, psychiatric, and specialized individual intensive care units for neurology, pediatric, neonatal, surgical trauma, cardiac and cardiac surgery. The Emergency Center, with helipad capability and three urgent care centers, treats over 120,000 visitors per year.
How to Apply: https://navicenthealth-careers.hctsportals.com/
---

Careers at Mercer | Mercer University | Macon, GA
Mercer University's mission is to teach, to learn, to create, to discover, to inspire, to empower and to serve. If you are drawn to opportunities where you can make a difference, then Mercer University is the place for you. Here you will find a community where your expertise will be valued, your knowledge expanded and your abilities challenged. Our tuition waiver benefits, Mercer on Mission program, and our ongoing support of the arts and athletics are just a few of the many reasons why you want to be a part of the Mercer family.
How to Apply: https://hr.mercer.edu/jobs/
---