Visit Macon's Economic Impact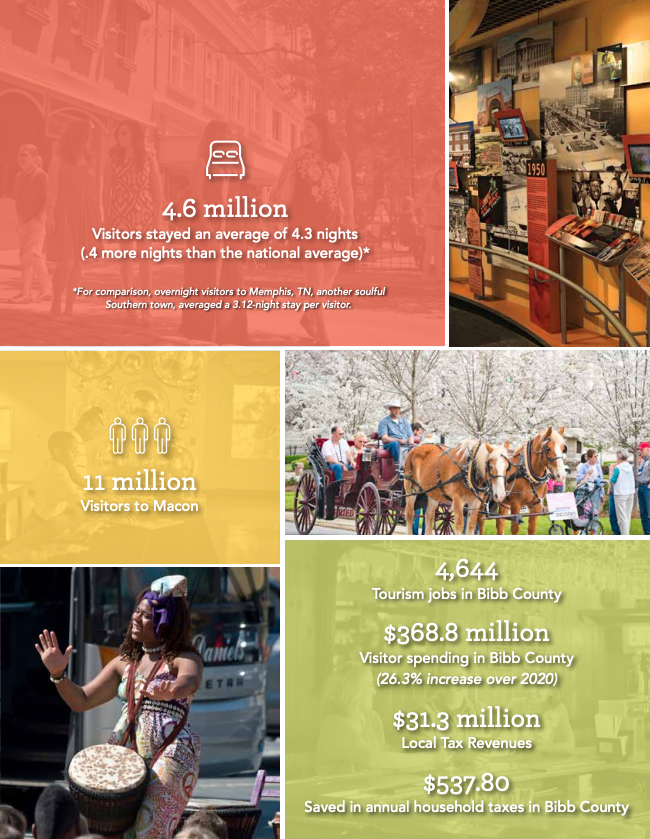 Tourism is the lifeline for so many, from our hotels and local businesses to the everyday citizen saving hundreds in taxes. This year's economic impact report proves that our travelers are ready to venture out again and they are adding Macon to their road trip agendas. An estimated $368.8 million was spent by visitors in Bibb County, that's a 26.3 percent increase over 2020.
Many people do not know that each night, an average of 10,000 visitors stay in Macon-Bibb hotels and motels, and the taxes these tourists and visitors pay stay right here in Macon. Recent data shows that 4.6 million visitors stayed an average of 4.3 nights which is .4 percent more nights than the national average. Thanks to these visitors' booking rooms, Bibb County citizens saved an annual $537.80 in household taxes!
To find out more about new initiatives that increased visitors in Macon, click the button below to view our full FY22 Annual Report!