MACON, GA (April 12, 2023) — Visit Macon is proud to announce the winners of the first-ever 'Drink the Pink' contest!  The contest was established as part of the newly launched Pink Provisions Trail and votes were tabulated during the 10-day International Cherry Blossom Festival, March 17-26 of this year!

"Macon is still recovering from the influx of traffic and all of the excitement that surrounded this year's Festival!" said Naomi Peterson, Visitor Services at Manager Visit Macon. "Our Visitors Center welcomed a record-breaking number of visitors seeking more information about the Festival and all of the exciting things to do while they were here. Our merchandise sales were also record-breaking for us." The Pink Provisions Trail was established and distributed via a free download available on the GooglePlay or Apple app stores within the Tour Macon app<https://www.maconga.org/things-to-do/tours/> – Macon's own collection of self-guided tours and trails that will continue to grow.  The Pink Provisions Trail highlighted all of the pink-themed food and drinks from businesses throughout all of Macon, beyond just the Downtown corridor. "We had almost 40 pink-themed items from 28 businesses submitted for this first year and we hope it will grow each year as businesses continue to get into the spirit of Macon's largest event of the year," explains Marisa Rodgers, Director of Marketing at Visit Macon. "We saw nearly 500 downloads of the app during the festival timeframe alone, and we know that our visitors love to have the option.  It was great to see Macon businesses thriving during the Festival with hundreds of votes on these pink-themed goodies!" Voting for the Drink the Pink contest took place in two ways with three awards.
The first award was for "People's Choice." For this first year, the link to vote was within the Pink Provisions Trail app and we distributed QR code signs to participating businesses so that patrons could vote directly in the businesses.  Our first place winner for the alcoholic-beverage category was Parish on Cherry with their 'Poppin' Cherry' cocktail!  Second place was El Sombrero's 'Pink Paloma' and third place went to JBA's 'Tokyo Tea' (who were also moving locations during the contest period).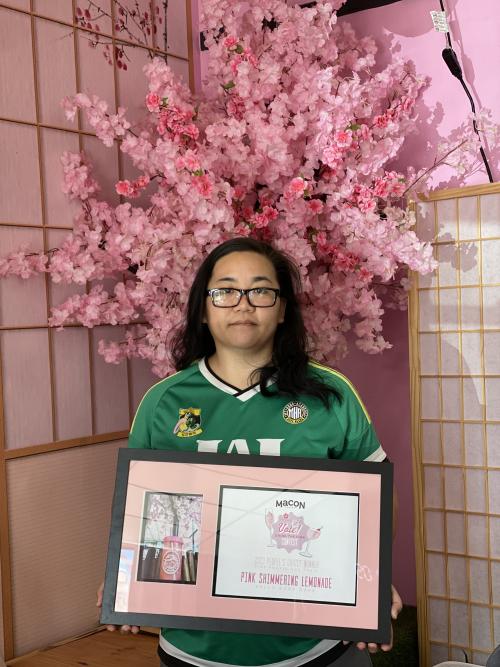 The winner of the 'People's Choice' for non-alcoholic beverages is Hello Boba Café for their 'Pink Shimmering Lemonade.' Followed by The Burrow's 'Pink Poodle Drink' and Z Beans' 'Cherry Blossom Frizado.'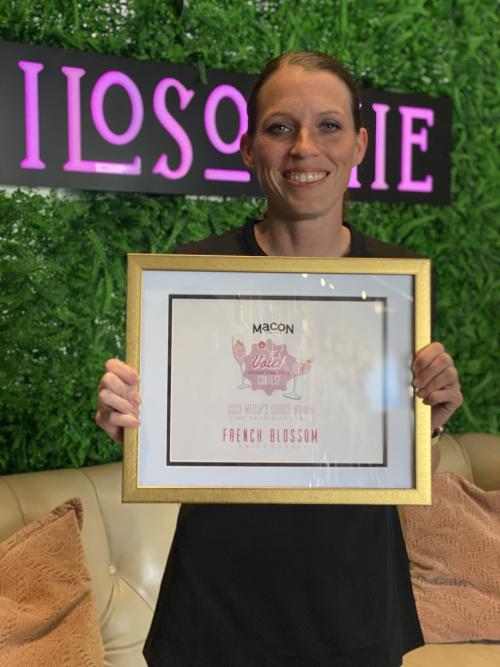 The second award given during the Drink the Pink Contest was "Media's Choice." A ranking system of all drinks along the trail were scored by press and travel writers who were invited to Macon thanks to Visit Macon's public relations efforts.  The first-place award goes to Philosophie's 'French Blossom.'  Narrowly in second place was the 'Yoshi Pilsner' from Fall Line Brewing and third place the 'Cherry Blossom Margarita' at Yollah.

Next year's International Cherry Blossom Festival will be held March 15-24, 2024, as will the return of the Pink Provision Trail! ###

About Visit Macon: The mission of Visit Macon is to unify and lead our community in marketing the Macon-Bibb County area as a superior visitor and meeting destination. Visit Macon promotes Macon, Georgia to travel writers, meeting planners<https://www.maconga.org/meetings/>, group tour operators<https://www.maconga.org/groups/group-tours/> and leisure travelers in an effort to bring people and revenues into the community and area businesses. http://www.visitmacon.org