Ladies, start your Pinterest engines - the wedding style pundits have spoken, and 2017 is a lock. With another bridal fashion week behind us and surges of inspiration ranging from trickled-down traditions to scene-stealing pastels, brides still in the planning stages have a veritable bouquet of options to choose from. Here are 10 spring and fall 2017 wedding trends to watch for:
Intimate Ceremonies 
No need to buy 500 stamps for as many invitations. The trend of shifting the focus from "bigger is better" to smaller and more personal continues from 2016 right into next year. Limiting guest lists to essential family and beloved besties takes the pressure off to plan mega-weddings, and allows brides to splurge on quality details, like swanky cotton paper invitations or spiffy thank-you gifts for bridesmaids and groomsmen.
Bold Accent Colors
Pastels may be in, but bold pops of color provide the perfect balance. Think rich jewel tones in stemware, a rainbow of linen options and attention-grabbing tablescape trinkets.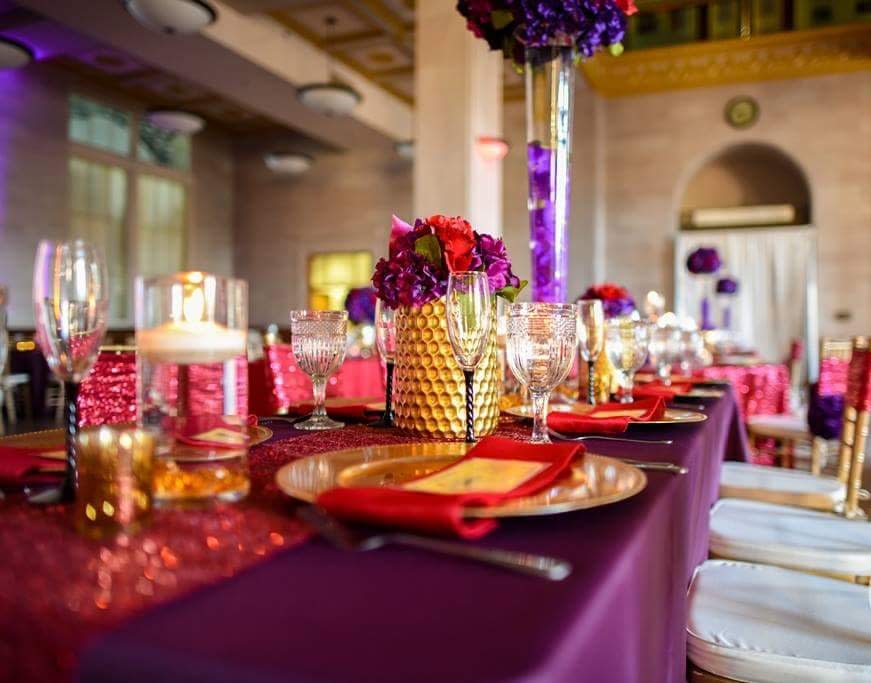 Non-Traditional Venues 
Walking down the aisle in a church will never go out of style – but downtown lofts, terrace weddings, and urban rooftop settings are all making the list of unlikely yet charmingly offbeat wedding venues. And barns aren't going anywhere anytime soon either. Rustic is still in!
Scene-Setting Hues
Monochromatic washes in pastel shades are central to trending wedding color schemes for spring and fall. Ethereal watercolor hues are especially vibrant for spring nuptials.
Metallic accents
Gilding the lily is still a thing in next year's weddings. Sultry gold is popping up everywhere, including the cake, and bright, glistening copper accent pieces to add drama and flair.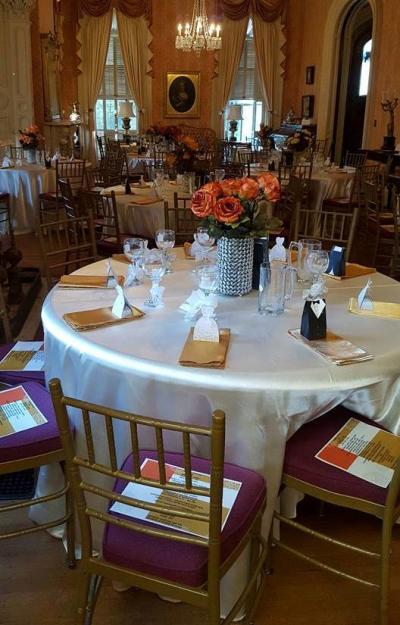 Wedding at Hay House.
Unfussy Florals
Unstructured and so au natural they look plucked straight from nature is the go-to concept pushing petals in 2017 wedding décor. Plump little succulents, untamed foraged botanicals – anywhere the wild things grow is the botanical bounty of choice for modern young brides.
Find-Your-Vibe Themes
Soul power following in the footsteps of such greats as Ma Rainey and Bessie Smith, shabby chic as vintage as your grandmother's hope chest, or ambiance that comes straight out of a galaxy far, far away - whatever your jam is, that's what your wedding theme should be. In spring and fall weddings, it's all about you girl!
Whimsical Headpieces
You can wear your cake (and eat it too) next year, thanks to inspired designers who introduced wedding cake crowns to the runway. Bridal headbands embellished with faux desserts like wedding cake, cookies, and doughnuts are a deliciously intriguing new trend. Princess-style trains and long flowing veils are making a romantic return - especially those accented with sweet, old-fashioned lace, beading, and embroidery.
Think Pink 
If your dream spring wedding takes place during Macon's International Cherry Blossom Festival, are you ever in luck. Pink is the season's hottest white-alternative in wedding gowns whether it's a single dewy shade or an ombre cascade of color. Adding to the uber-feminine mystique in dresses: High prim necklines, long flowy bell sleeves, off-the-shoulder gowns with modest portrait necklines, bows (the bigger the better), lace, lace, and more lace.
For more information about venues in Macon, click here.