Editor's Note: Do not miss this show.
AJ Ghent likes red wine and wants his audience to experience some peace and healing from his music. His guitar work is something soon to become legendary. 
Ghent, pronounced j-ent, fuses blues, funk, rock, and pop, mulling it into a sound he calls, "Neo Blues."
He comes from a multigenerational musical past bringing new flavors to his guitar and vocal work.
AJ Ghent and his band play The Creek Stage at The Rookery this Saturday. Doors open at 10:00 p.m. with the show starting at 10:30 p.m. 
Tickets are only $15.00 for this one-night-only show. Tickets can be purchased in person or online. 
"My sound is pretty unique," Ghent said. He found it in the church and through his family's musical legacy.
Ghent's great uncle is Willie Eason, the creator of the "Sacred Steel Tradition," and his grandfather is Henry Nelson, the founder of the "Sacred Steel" rhythmic guitar style. 
To play guitar well is an understatement. It is in his DNA.
Ghent takes a lap steel guitar style, but plays it standing up. Using an overhand technique, he plays slide while dancing and grooving to his own music rocking out with his audience.
 "After I get off the stage I'm drained," he said. "It's like a spiritual drain."
Following suite of his trailblazing family members, Ghent redesigned the Sacred Steel style into what he calls "Singing Guitar Vibes." 
It is a contemporary style that gives the guitar a vocal feel.
The term was coined after a video of him playing went viral online. People said it sounded like the guitar was singing and the name stuck ever since.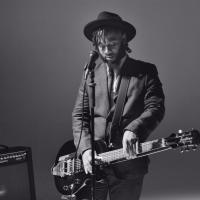 Playing with a three piece band, Ghent not only plays the guitar, but brilliantly sings his own vocal line. His voice is honest and full of soulfulness. It brings life to the stage. 
"Singing from the soul is the only thing I know how to do," Ghent said.
He said there is no recipe to his playing. Ghent comes from a place of vitality and homage for the musicians that came before him.
Ghent finds his influence from Otis Redding, Prince and James Brown. 
"(It) took me coming into adulthood to fully understand who these people were," he said, now 31.
He said his sound is "very Southern" and mashes up well with expectation and music of Macon, because of who inspires him. 
Ghent has played Macon a few times already.
He was previously seen at Bragg Jam, which he said was a great experience.
"Man, the energy there was electric," Ghent said. "Before you knew it, the place was packed."
After Macon, he is going to be gearing up and playing a show in Atlanta. He plays in Canada later this year.
Ghent is currently working on a project in the studio and sending out emails. He cannot disclose the details of the project he is working on, but he said it is going to be visual.  
"Make sure you buy your tickets before they run out," Ghent said, regarding Saturday's show. "It's going to be something you have not seen before."