Just across the street from the Macon-Bibb Convention and Visitors Bureau, I take a turn down an alley that splits Cherry and Poplar Streets to find myself at the foot of a small stream.
On top of the water, small flecks of glitter flow past, shimmering as they catch the afternoon sun. The source of the stream seems to be a mural of lights hanging from the bare branches of a potted tree. Past the tree, I knock on a gated door that bears crude drawings of eyes and is overhung with a bouquet of dried wildflowers.
Upstairs, I enter a room, silent except for the low, rhythmic sounds of tablas. I'm here to see Willie D., to gather the oral history of Cult of Riggonia. Willie, bed-ridden and groggy from a recent encounter with the harsh realities of gravity, smiles slyly and begins…
-------------------
Chapter 1
1 In the beginning, there was the land of Riggonia.
2 Dr. Martian begat Raj.
3 And Lordo and Señor.
4 And Web and Speed and Willie D.
5 These were the children of Riggonia, and they peacefully inhabited the land.
6 But in Riggonia, there was a beast, a scaled, saber-toothed monstrosity, who terrified the children of Riggonia.
7 Sayeth the beast, "None shall pass into my swamp! Do not come here!"
8 So on the land, the children of Riggonia built a teepee of thrift store sheets bearing images of heroes from the Land of Disney.
9 And in the teepee, wavelengths of light and sound and color mingled.
10 And the Children of Riggonia, suffering visions, began to chant, offering glad tidings to appease the beast in his swamp.
-------------------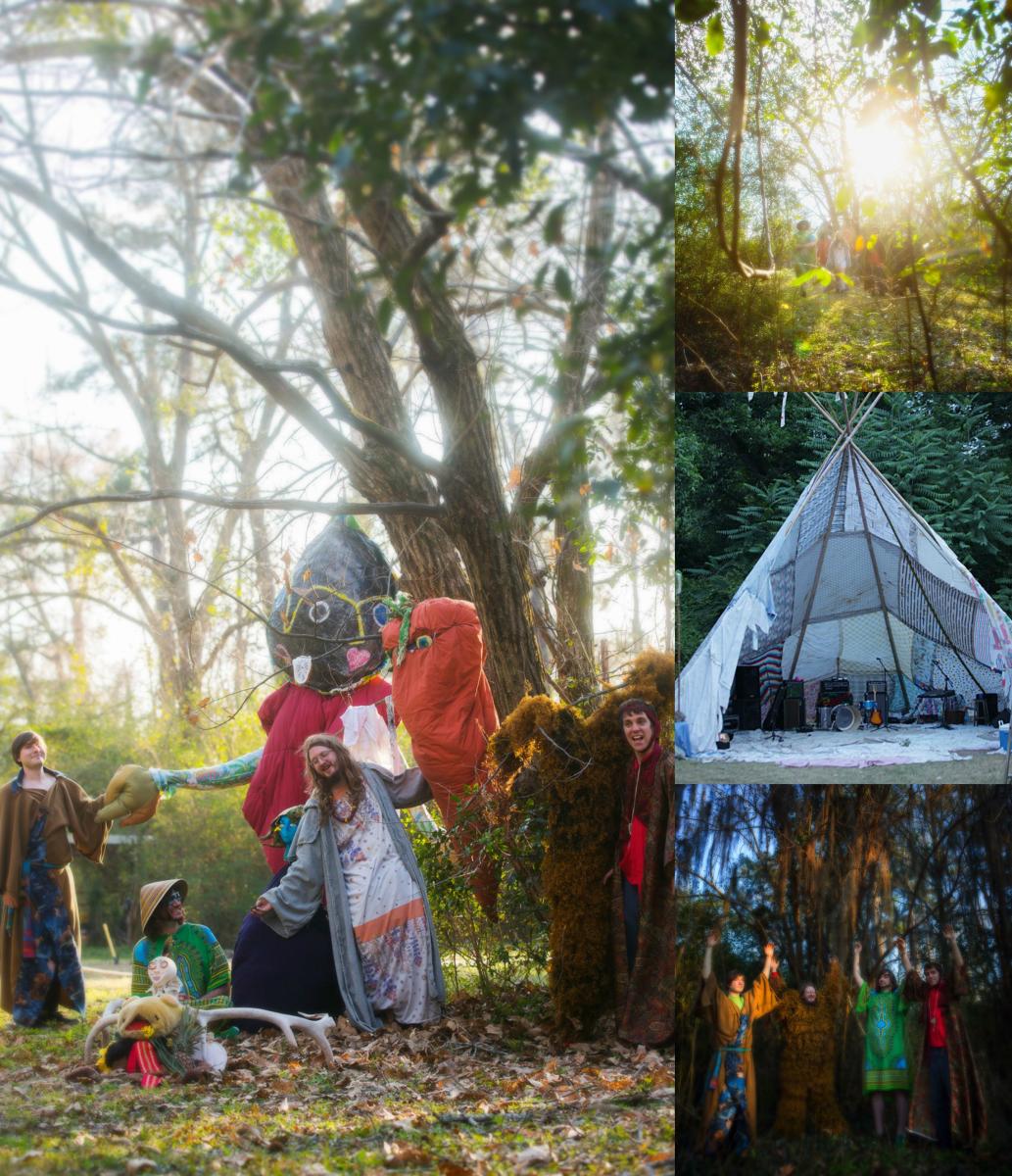 Photos by Nathan Jones
And so it came to pass that Cult of Riggonia was formed. The band – or rotating group of characters – is one of the many local acts included in the lineup of this year's Bragg Jam. Jokingly, they describe themselves as "a fun experimental band with costumes and tribalism," but that doesn't quite hit the mark.
It's less a band than it is a synthesis of the members' aural experiences as they travel through the cosmos. It's not music in the traditional sense. It's more like the sound of six human beings locking onto the same wavelength and exploring its nuances. The creation process usually starts with a focused selection of samples, then other parts accumulate, and songs are crafted through periods of improvisation.
But these songs are only one facet of an entire cultivated aesthetic that extends into all facets of existence. To wit: finding normal avenues of communication too inadequate or primitive, Cult of Riggonia has developed their own esoteric language that isn't exactly translatable into English. Sounds represent actions and feelings are communicated through inflection. You must be smesh, but not greegan.
Cult of Riggonia (and the other local bands that usually play before the sun goes down) are a part of what gives Bragg Jam its unique character. The festival is a chance for local bands to find new fans that they might not otherwise encounter, and it provides a welcoming atmosphere for attendees to experience music that might be beyond their everyday radar. So hit the streets early and discover something new this year.