Photo taken by Doug Nurnberger
"I went down to the sacred store, where I'd heard the music years before - but the man there said the music wouldn't play."
When Don McLean wrote those words in the early 70s for his hit American Pie, he was referring to the death of rock and roll, or at least as he knew it. In his case, it was the 1959 plane crash that killed Buddy Holly (along with the Ritchie Valens and The Big Bopper, J.P. Richardson). McLean was only 13 years old at the time, a kid getting ready to head out on his paper route when the news of the crash became public. The memory of it was searing for the young songwriter-to-be, as he would later describe in poignant and poetic detail.
Most of us have one of those stories – for me it was hearing the news that Stevie Ray Vaughan had died in 1990. I may not be able to remember to buy toothpaste when I run out (every time), but I know exactly where I was and what I was doing when I heard the news that one of the best guitar players to ever come out of Texas had died in a helicopter crash. It's a visceral memory, and I can recall every nuance with perfect clarity.
For Macon, that story is a one-two punch – first, the death of Otis Redding in 1967 followed by the loss Capricorn Recording Studios little more than a decade later. The two tragedies are inextricably tied together, and the mourning has been ceaseless ever since.
The record label that made Macon the epicenter of Southern rock from 1969 to 1979 or so was the brainchild of Mercer alums (and brothers) Phil and Alan Walden and former Atlantic Records executive Frank Fenter. Redding – managed by Alan Walden – never got the chance to be a part of the Capricorn magic, but certainly, his music and legacy were cornerstones of what Macon's answer to Muscle Shoals was to become. Capricorn's recording studio hung as the star of Broadway Boulevard (now Martin Luther King Jr. Blvd.), and served as musical home to the Allman Brothers Band, Wet Willie, Elvin Bishop, Bonnie Bramlett, Marshall Tucker Band and many more. Like Icarus, the label soared to the sun in the 70s, only to plummet back to earth (for myriad reasons) a decade or so later.
But, to paraphrase another famous American rock song, what goes down must (eventually) make its way back up. Which is to say, if the conditions are just right and the atmosphere is primed, even a fallen star can rise.
On December 7, 2016 (remember that date kids, it's going to be important), Capricorn will make music once more, under its new name and fresh new guise: The Mercer Music at Capricorn Studio.
"This will be the first official recording session at Capricorn since the building returned to Mercer's ownership last month," reads a written statement from Mercer University. "Partnering with Macon radio station 100.9 FM, "The Creek," artists Betty Cantrell and Jonathan Wyndham will each record a track that has deep associations with Macon. Cantrell will record Otis Redding's (Sittin') On The Dock Of The Bay and Wyndham will record the Marshall Tucker Band's Can't You See."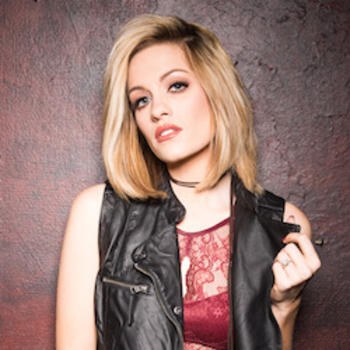 Betty Cantrell 
Cantrell, a burgeoning country music artist also happens to be a former Mercer student (not to mention Miss American, 2016), and Wyndham was a popular contestant on The Voice before launching his musical career. Former Capricorn session musician Paul Hornsby will back the artists on the keyboard, along with other local musicians, as well as students from Mercer's Townsend School of Music.
Mercer first became a pillar of the continuing Capricorn legacy in 2015, when the university entered into a partnership with NewTown Macon, Sierra Development, and Southern Pine Plantations.
"In 2011, the Capricorn Studio was listed as one of the most endangered historic properties in the state of Georgia. Thanks to a grant from Peyton Anderson Foundation, we were able to purchase and stabilize the building, saving it from destruction," NewTown Macon President & CEO Josh Rogers says.
"The revitalization of the Capricorn Studio was only possible because of the generosity of Sierra Development and Southern Pine Plantations, the developer for the $20 million mixed-use project taking place on the vacant land around the historic studio.  The sheer scale of that project allowed the developers to donate the historic buildings and a significant amount of cash to Mercer to jump start redevelopment."
The $50 million project will add 137 lofts (increasing the total downtown housing supply by 30%, Rogers says). These new-build lofts also will include 15,000 square feet of retail space, while the historic studio will serve as an incubator for a new generation of musical talent. 
"The project matters because the studio has survived almost totally intact from the decade of Capricorn's prominence, when Southern Rock was invented and recorded in the space, creating a social and musical fusion that brought together black and white cultures and people. Capricorn was hugely influential in American music history, and this space is a unique way to experience this history," Rogers says.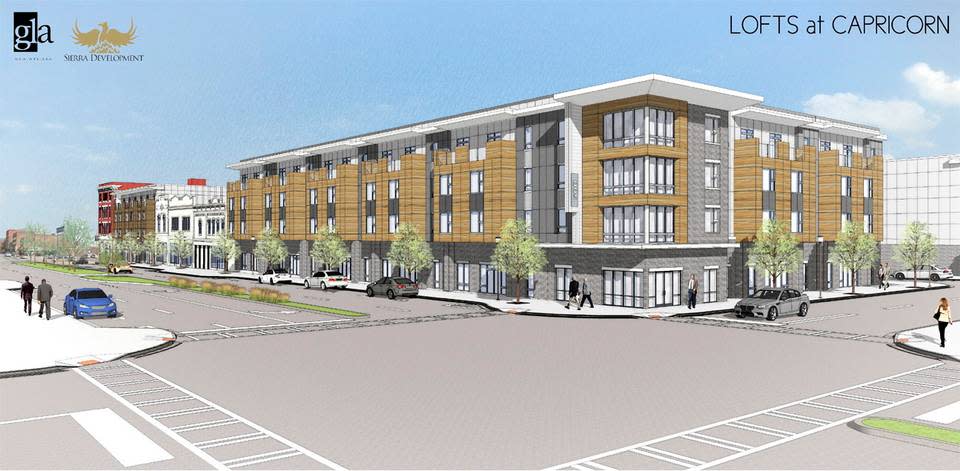 Architectural rendering of The Lofts at Capricorn
For Jessica Walden, daughter of Alan and niece of Phil Walden, the return of Capricorn is no doubt a personal dream come true, as well as the beginnings of an important new chapter in Macon's musical and cultural legacy.
"This is a beautiful case of where private development actually preserved a historic landmark instead of erasing it," Walden says. "Throw in the higher education element with the partnership of Mercer University, and you have a project that is mixing music industry and music history like no other 'music town' in the U.S. right now."