The Weekend
... always has so much in-store. We've got to live it up to its potential. But, sometime making plans for a fantastic adventure can be tough. With so much on our plate and limited time to get everything done during the week, all we want is a relaxing weekend full of new experiences. So we cut out all of the work. Here are some excellent adventures and things to do this upcoming weekend. No need to budget the bank, all of these activities are at a bargain!

Ocmulgee Indian Celebration 2018
The third weekend in September welcomes one of the largest Native American gatherings in the Southeast as more than 200 craftsmen, dancers, storytellers, living history demonstrators and others with ties to the region return to Ocmulgee Mounds National Historical Park in Macon, Georgia.
September 15, 2018 - September 16, 2018
Time: 10:00 AM - 5:00 PM
Adults: $6
Age 6 – 12: $3
Military with ID: $3
5 & Under: FREE

Museum of Aviation transports you into the world of the sky. Check out planes and learn about our nation's unique history at the same time. A short drive from downtown Macon, this free museum offers hours of family friendly action.
1942 Heritage Blvd
Warner Robins, GA 31098
Phone: (478) 926-6870
FREE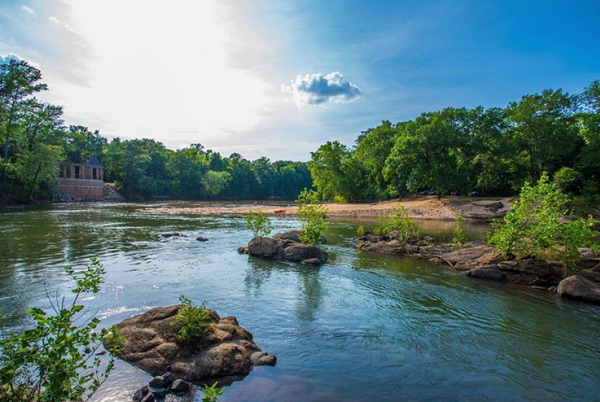 Macon is often referred to as a "City Within a Park." We have an extensive network of community parks and walking trails that allow visitors and residents to experience Macon's natural beauty. Park are all free and host events for all ages at various times throughout the year. Enjoy Macon's nature trails like The Ocmulgee Heritage Trail.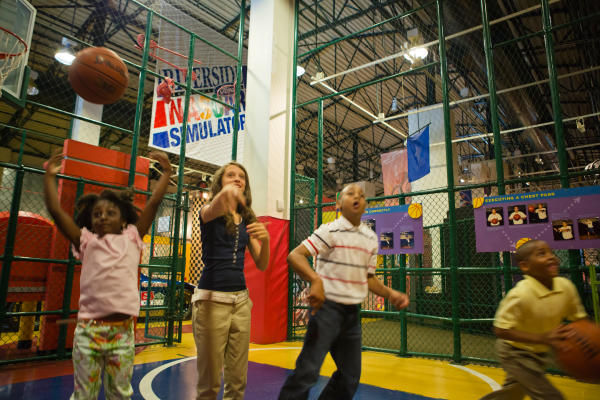 The Georgia Sports Hall of Fame and Museum in Macon, Georgia, is the country's largest state sports museum. The 43,000 square feet state-of-the-art museum houses over 3,000 artifacts. From the old style ticket booths to the brick columns in the rotunda and special lighting, the museum invites visitors to experience the history of sports in Georgia with more than 14,000 square feet of high-energy exhibit space and a Hall of Fame corridor that honors the over 400 inductees. 
301 Cherry Street
Macon, GA 31201 
Phone: (478) 752-1585
Closed Sundays
Admission is FREE for Hurricane Florence evacuees until the end of the weather crisis.
Adults (17 and over): $8.00
Seniors, College, and Military with ID: $6.00
Children (16 and under): $3.50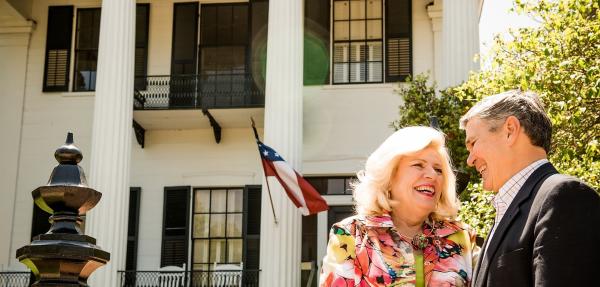 This Greek Revival mansion built in 1853 was the only house in Macon struck by a cannonball during Stoneman's Raid on Macon in 1864. Now restored with furnishings of the period, the charming English garden features seasonal blooms. Listed on National Register of Historic Homes. Forty-minute guided tours include the main house and the original two-story brick kitchen and servants' quarters. Tours are offered every half-hour with the last tour beginning at 4 p.m.
856 Mulberry Street
Macon, GA 31201 
Phone: (478) 745-5982 
Adults: $8.00
Age 65+ or military ID: $6.00
Students (college with ID): $4.00
Under 4: FREE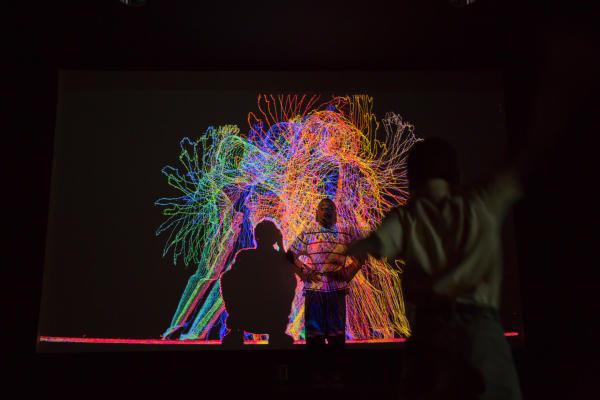 "Discover The World—Explore The Universe" at the Museum of Arts and Sciences, the largest general purpose museum in Georgia and only cultural institution in the state dedicated to both art and science. Founded in 1956 in the basement of the old Wesleyan Conservatory, the Museum's 55,000 square-foot facility, located on 14 acres on Forsyth Road in Macon, offers a wide variety of art and science exhibitions, full-dome planetarium, Mini-Zoo with 70+ live animals, interactive Discovery House, beautiful nature trails, 200+ seat auditorium, Museum store, and much more.
4182 Forsyth Road
Macon, GA 31210 
Phone: (478) 477-3232 
Members: FREE
Children 2 and under: FREE
Adults: $10
Children 3-17: $5
Senior Citizens (62 years old and up) & Military with ID: $8
College Students with ID: $7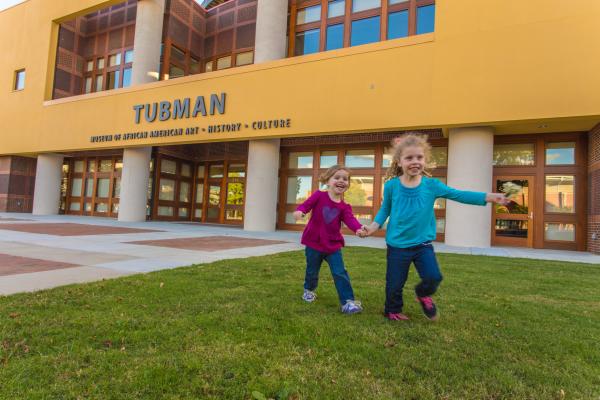 The Tubman Museum is the Southeast's largest museum dedicated to the Art, History and Culture of African Americans. Take a journey from Africa to America! Begin your adventure with local Artist, Wilfred Stroud's nine panel mural that chronicles the struggles and triumphs of the African American Experience. Dive deep into African Tradition through authentic African Art. Grasp a deeper understanding of the past through our contemporary African-American, as well as, Southeastern art and folk art galleries. Enter the brilliant minds of African American inventors, scientists and entrepreneurs in our "From the Minds of African Americans" gallery.
310 Cherry Street
Macon, GA 31201 
Phone: (478) 743-8544 
Closed Sundays and Mondays
Adults – $10.00
Children and Teens (age 3-17): $6.00
AAA members with ID $8.00
AARP members with ID: $8.00
Seniors (55+) and College Students with ID: $8.00
Educators with ID: $8.00
Military with ID: $8.00
Tubman Museum Members: FREE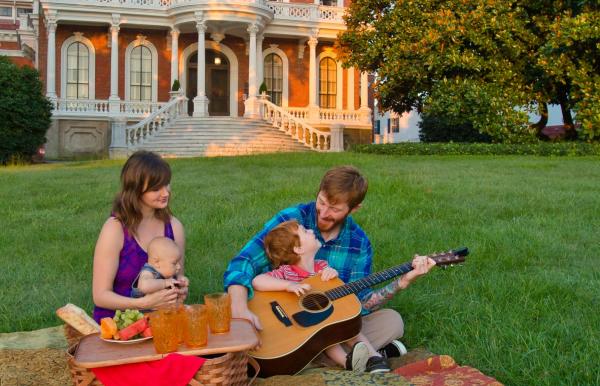 In the mid-1800s, William Butler Johnston was the keeper of the Confederate treasury, but the mansion he built is the real treasure he left behind. Inspired by the mansions of Florence and Rome during a three-year honeymoon in Europe, Johnston and his wife, Anne, spent four years building an 18,000-square-foot Italian Renaissance Revival mansion that is now a National Historic Landmark. Tours are on the hour with the last tour at 3 pm.
934 Georgia Avenue
Macon, GA 31201 
Phone: (478) 742-8155 
Temporarily Closed Sundays
Adults: $11
Seniors (Ages 65+) and Military with ID: $10
Students (ages 6 to college with ID): $7
Under age 6 and members of The Georgia Trust: FREE
Top of the House Tours $4.00 per person

Ocmulgee is Macon's number 1 tourist destination, and the reason is clear. See the great temple mound, explore North America's only reconstructed earth lodge, or walk across Civil War battlefields, where 17,000 years of history greet you. What makes visiting the Ocmulgee more special is that the monument's earth lodge floor turns 1,000 this year! The Ocmulgee Mounds National Historical Park is definitely a must-visit, especially if you're interested in Native American history and culture, the outdoors and hiking.
1207 Emery Highway
Macon, GA 31217
Phone: (478) 752-8257
FREE
During the Ocmulgee Indian Celebration on September 15 and 16, a special event fee will apply those days.
Pet-Friendly Things To Do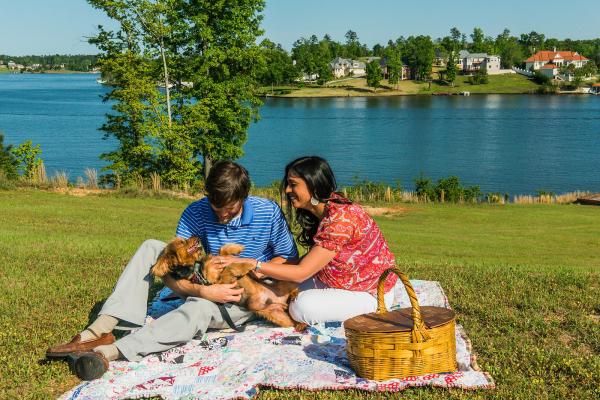 The Macon Dog Park is a fully-fenced city block with areas for both small and large dogs to explore. Located in the heart of the College Hill Corridor, the park even holds a "Yappy Hour" once a month for owners and their dogs to hang out together. 
Located across from Mercer University, this beautiful park offers plenty of space for your dog to play to its heart's content. Enjoy a picnic under the pavilion and check out the artwork found throughout the park. 
Ocmulgee Heritage Trail 
The Ocmulgee Heritage Trail is the only riverside trail and park system in Central Georgia. Take a timeout from the chaos of every day life with your pooch and enjoy a peaceful walk through Carolyn Crayton Park or Amerson Park. Many of Macon's historic treasures can be found on along the trail including: Ocmulgee Mounds National Historical Park, Rose Hill Cemetery, and Gateway Park. 
Lake Tobesofkee, a year-round recreation area covering nearly 1,800 acres, is the perfect place to have some fun in the sun with your pup, as long as they are on a leash! 
Want to learn more about all that Macon has to offer, but don't want to leave your pup behind? Come see us at the Macon-Bibb County Downtown Visitor's Center and bring them along! We'll provide your dog with water and treats while you peruse Macon's historical timeline from our Native American roots to current day.