Sonny Ledford has a story to tell, and you're going to want to visit Macon to hear it.
Ledford, who carries an ambassador status with the Eastern Band of Cherokee Indians, will be at the Ocmulgee Indian Celebration in Macon on September 16-17, 2017, to reveal the true history of the Cherokees.
It's a history that Ledford says movies and TV often get wrong. Facts are twisted. Rituals are simplified. Stereotypes are amplified.
"Society thinks we're just feather and beads," Ledford laments. "We're not. At the [Ocmulgee Indian Celebration], I get to explain the real history."
Ledford's credentials as a Cherokee storyteller are unimpeachable. Tribe elders encouraged him to pursue this path when he was in his 20s, and since then, he's devoted his life to educating the world about the culture and traditions of the Cherokees. He's led programs at Duke, University of North Carolina, Clemson University, University of Tennessee and many others higher ed institutions.
Additionally, as a member of the Warriors of AniKituhwa, Ledford's also performed across the country at events similar to the Ocmulgee Indian Celebration. Ledford does point out big differences between Macon's signature event and others across the country.
"You'll see a lot of stereotypes at other events. You won't see them at this event. That's what I like about it," Ledford explained. "This event brings the Choctaws, the Creeks, groups like mine, to do the original dances of our people. We get to show our real culture. That's what makes this event different than a lot of others."
Ledford, along with around 9,000 other Cherokees, lives on the Cherokee Indian Reservation in North Carolina, about an hour outside of Asheville, right on the border of Blue Ridge Parkway and the Great Smoky Mountains. While he loves his home, he also enjoys traveling to Macon, paying specific praise to the "calming" Ocmulgee Mounds National Historical Park and the friendliness of the hotels and restaurants he visits when he's in town.
Ledford wants Macon festival attendees to walk away knowing one thing.
"The Cherokees are still here. We still exist. We have a strong culture that we still practice and live..."
"We're human."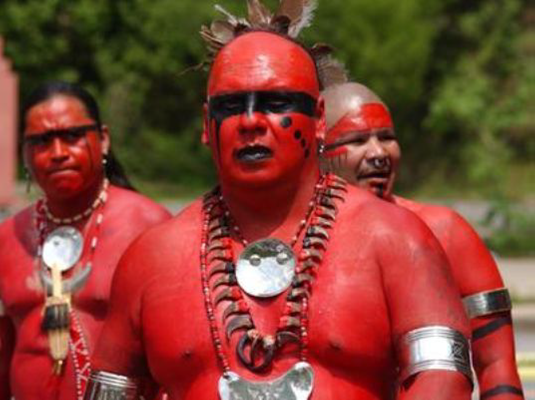 Photo courtesy of http://www.cherokeemuseum.org
Ledford and other members of his tribe will have a booth at the two-day festival on September 16-17, 2017, answering attendees' questions and sharing unique facts about the Cherokee culture. Ledford will also be performing during the event for the fourth time.
Plan your trip to the Ocmulgee Indian Celebration here. And read our previous blog highlighting 7 things to get you ready for one of Macon's most famous events here.