Our community and others around the nation are celebrating National Travel and Tourism Week from May 1 - 7, 2022. The theme of this year's celebration is "The Future of Travel" in which we celebrate the ways our tourism industry is becoming more innovative, efficient, and sustainable.
How we adapted
Planning for the future, utilizing newer technology and being prepared to pivot when necessary allowed Macon to continue holding marquee events like the Mainstreet Christmas Lights Extravaganza, the International Cherry Blossom Festival and the Southeast Tourism Society's Marketing College, which produced an economic impact of $100,000.
Technology like the "Merry Cam," which was viewed more than 500,000 times during the 2021 holiday season, and the Cherry Blossom Cam, which generated over 300,000 views this year, allowed visitors from around the world to remotely attend the International Cherry Blossom Festival and the Mainstreet Christmas Lights Extravaganza. 
Tourism Industry's Impact on Local Economy
The future of Macon depends heavily on investment in local tourism. On average, travel and tourism generates $292 million per year for our local economy and supports more than 4,100 jobs. State and local tax revenues are $23.8 million and for every $1 invested in local tourism marketing and promotion, Macon's economy gets $54 back.
For this year's National Travel and Tourism Week, we reached out to a few community organizations and businesses that share how they benefit from Macon's thriving tourism industry. 
Historic Macon Terminal Station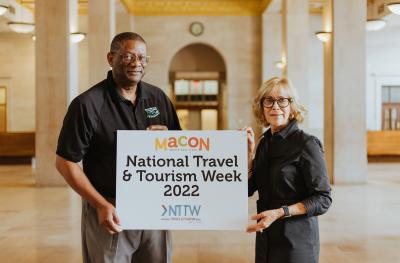 "Macon's Historic Terminal Station packs a one-two punch for tourism in Macon. Today, the bustling train station of the early 1900s does a robust wedding and special event business with more than 62 events scheduled in 2022 with projected income of more than $173,000, and 27 events already scheduled for 2023, projecting another $93,000. 
When the film and television industry is in the hunt for a grand set location, the 14,000 square-foot "Crown Jewel of Downtown Macon," delivers. Most recently — Marvel's 2021 blockbuster, Black Widow, and The Underground Railroad, a made-for-TV-movie based on Colson Whitehead's Pulitzer Prize winning novel about the secret network that helped slaves travel to freedom.  
Entertainment industry crews are dazzled by the Terminal Station's grandeur, reasonable rental rates, the ease of doing business with us; and our welcoming and accommodating staff. Macon's downtown gem has sprung to life as a popular event venue and backdrop for noteworthy film and television projects".  
The 567 Center for Renewal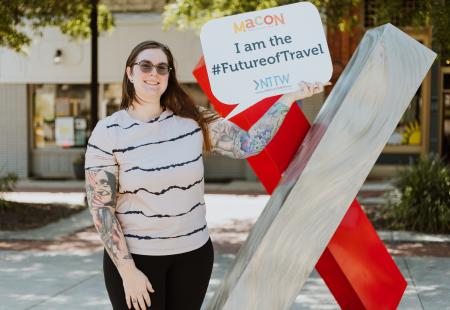 "We love seeing out-of-town visitors experiencing Macon artists in our gallery, having a creative experience in an art class, or exploring all the public art downtown. Visitors are often surprised to discover that Macon has more art offerings than some larger cities. Tourism in Macon grows every year, and it's wonderful how Visit Macon and Macon's attractions all work together to bring more customers to Macon and provide a uniquely 'Macon' experience. Tourism is an essential part of the growth of Macon's art scene."
  Travis Jean Emporium
 
"Visitors have a huge positive impact on my business and the downtown community. We see people from all over in Travis Jean Emporium and at events like Macon Pride. The impact is so great that the immediate future of my business includes expansion of our footprint and our inventory."
What's Next?
With the announcement of the Ocmulgee Mounds becoming a National Historical Park in 2019, it is set to quadruple in size and it's expected over one million Ocmulgee visitors will visit Macon per year. 
The 40th International Cherry Blossom Festival was held successfully and saw tens of thousands of visitors that generated an economic impact of $3.3 million! 
More conventions and conferences are on the way including the 2022 Southeast Tourism Society Marketing College which is returning after it was held last year successfully thanks to pandemic safety guidelines that were implemented including conducting temperature checks, giving attendees wristbands to indicate comfort levels, and providing hand sanitizing stations and gloves.
Macon's tourism dollars spent on sports events are expanding and this year Georgia High School Association Wrestling, Basketball, and Cheer are already scheduled to return. Last year, GHSA Wrestling and Cheer combined $12 million in revenues and attracted 90,000 total attendees. 
Several film and television production companies have their sights set on  Macon. One production by Warner Brothers has already been completed with scenes filmed in downtown Macon. This brought business to our local economy and generated an increase in our hotel and motel sales taxes. 
By planning ahead, employing new technologies, hosting new events, attracting new TV and film productions and being prepared to pivot, Visit Macon and our partners are forging a more sustainable, more resilient travel and tourism industry. A strong tourism industry means a stronger local economy, more support for businesses, new jobs and exciting opportunities for all.
- Click the slides below to learn more about booking your stay, upcoming events and Visit Macon's Economic Impact -