Everyone has a way to relax and unplug. It is something that allows you to escape the worries of every day life and slow down for a while. For me, that something is music. Music is my form of meditation. It is a part of my life every day and as a proud Macon native, music that was inspired, created, and influenced by my city holds a special place in my heart.
I was always aware that Macon had a rich music history, but my love and appreciation for it really started in the Summer of 2015 when I interned at The Allman Brothers Band Museum at the Big House. To be honest, I didn't know much about the Allman Brothers Band (ABB) outside of the lead singer being married to Cher at one time. However, after spending two months learning about the band, their history, and the major impact they had on music today, I was turned into a lifelong fan. My favorite ABB song is Blue Sky. Written and sung by the band's original lead guitarist, Dickey Betts, the song is heavily inspired by Betts' time living in Macon. The lyrics, "Good old Sunday morning, bells are ringing everywhere," is a reference to the church bells that could be heard across the street from the Big House while members of ABB resided there in the early 70's. It's a song about love, sunshine, and happiness. I think those are things we could use a little more of today.
After my internship and college graduation, I received my first job as Marketing Coordinator with Visit Macon. As part of my job, I worked closely with our community partners, including the Otis Redding Foundation. Created in 2007 by his wife, Zelma, the mission of the foundation is to empower and enlighten all young people to fulfill their dreams. By working with the foundation, my eyes were opened to Otis Redding and his impactful music. Redding moved to Macon with his family when he was two-years-old and began his career as a singer at an early age. As a teenager, he competed in the Douglass Theatre talent shows winning 15 times. His professional career took off in 1962 with the release of These Arms of Mine the first of many hit singles. During his career, Redding toured throughout the world, brought different races and cultures together, became known as the King of Soul, and wrote huge hits like Sitting on the Dock of the Bay. That song would become his largest hit worldwide and his final recording before his tragic death in 1967. The lyrics remind me that no matter where I go, Macon will always be home.
From the King of Soul to the Architect of Rock N' Roll, Macon has no shortage of music legends. Little Richard was born Richard Wayne Penniman in Macon, Georgia on December 3, 1932. At 13, he moved in with a family, Ann and Johnny Johnson, who ran Miss Anne's Tic Toc, where he first performed. Miss Anne's Tic Toc is now Tic Toc Room, a fine dining restaurant in Downtown Macon. In 1951, Penniman signed a contract with RCA, but none of his recordings made much of a commercial impression. In 1955, he sent a demo tape to Art Rupe of Specialty Records in Los Angeles. He was looking for a raspy voice like Penniman's and brought him in for a session. There, he recorded Tutti Frutti. The single sold over three million copies and appealed to both black and white fans. Out of the 36 songs he recorded with Speciality, seven were gold: Tutti Frutti, Long Tall Sally, Rip It Up, Lucille, Jenny, Jenny, Keep A Knockin, and Good Golly, Miss Molly. Known for his flamboyant performances and larger-than-life personality, Little Richard personified a new era of music. On December 5, 2017, the city of Macon celebrated Little Richard's 85th birthday with the opening of The Little Richard House, an event at the Tubman Museum, and the declaration of Little Richard Day. I was fortunate enough to write this declaration and it has become one of my greatest career accomplishments to date.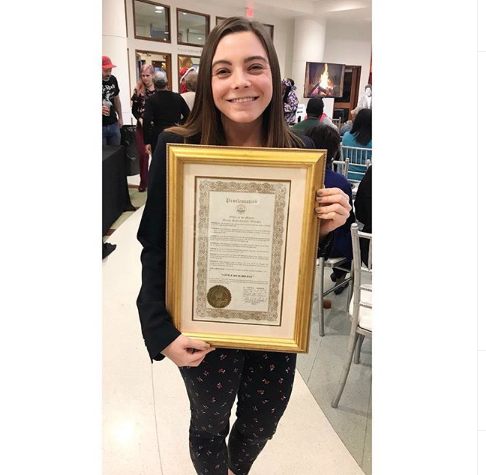 There are many other amazing artists who have a musical tie to Macon like Jason Aldean, Chuck Leavell, Marshall Tucker Band, Robert McDuffie, and more. These are just a few of the ways that Macon music has become the soundtrack to my life. I hope some of these songs can become the soundtrack to yours too.