Tourism continues to boost local economy through innovation, planning and agility
MACON, Ga. (Jan. 14, 2022) — Despite facing monumental challenges throughout the ongoing pandemic, Macon's tourism industry has found creative ways to safely bring new and return visitors to the city, elevating the local economy through uncertain times. 
In 2020, the industry generated more than $24 million in state and local tax revenue, saving every Macon household an average of $410 in taxes. Local tourism supports more than 4,100 jobs and, in 2020, visitors spent more than $292 million at local businesses.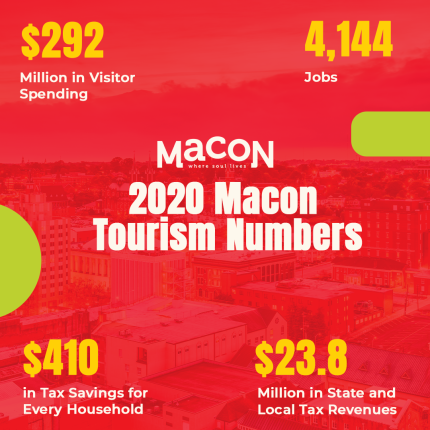 "The pandemic has forced the travel and tourism industry to evolve," said Visit Macon President and CEO Gary Wheat. "We know that consumers are eager to travel, but we have to remain cautious and mindful that we'll continue to face new challenges. We are constantly developing innovative and safe ways to engage visitors." 
That innovation allowed Macon to safely hold festivals and events in 2021, including Macon Burger Week, The Main Street Christmas Lights Extravaganza and the International Cherry Blossom Festival, one of the first festivals in the Southeast to successfully resume. For those who couldn't experience the Christmas lights in person, Visit Macon again hosted the "Merry Cam," which allowed people from all over the world to remotely view the lights more than 500,000 times – a new record for Visit Macon's virtual streaming experiences.
Film and sporting events continue to play key roles in the tourism industry's success. The GHSA State Wrestling and Cheerleading competitions generated a combined $12 million in revenues and attracted 90,000 total attendees. The production of TBS' Go-Big Show, Season 2 accounted for more than 12,000 room nights, replacing pandemic event losses. 
As the pandemic persists, Macon's tourism industry will continue to grow and change. Heading into 2022, Visit Macon and its partners will explore new ways to attract visitors from all of the world to safely enjoy everything that makes Macon special. 
###
Contact: Valerie Bradley 
Phone: 478-743-1074 X 106
Email: vbradley@visitmacon.org