Macon is the place where soul lives
...but it is also the place to satisfy your sweet tooth and those vexing midday cravings for a little sugar. From homemade ice cream to delicious cakes, you are bound to find something that pleases every palette.

Coffee, gelato and pastries, oh my! The Decadent Dessert Bar is Macon's newest stop for dessert. With offerings including cakes, homemade gelatos, waffles, and smoothies, you are bound to find something to satisfy even the pickiest of sweet tooths.  Want to bring your furry friend along the confectionery adventure? There is even a dessert option for pups!
530 Poplar Street, Macon, Georgia 31201
Hours:
Monday-Thursday: 7am-9pm
Friday-Saturday: 7am-10pm
Sunday: 11am-6pm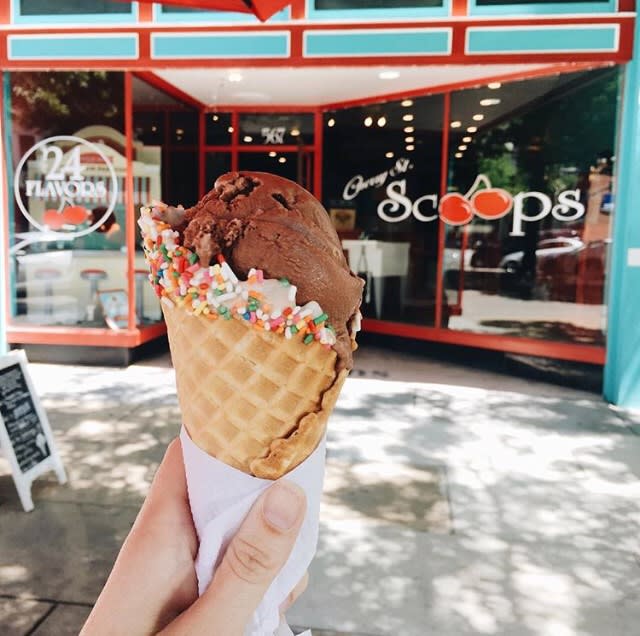 Sitting in the heart of downtown Macon, Cherry Street Scoops is an 'old school' ice cream parlor popping with bright color and fun flavors. Not only can you get ice cream and milkshakes from their 24 different flavors, but Cherry Street Scoops also offers baked goods, candies and coffee. The bright and colorful atmosphere is sure to bring a smile to anyone's face.
571 Cherry St, Macon, Georgia 31201
Monday: 11-9pm
Tuesday-Thursday: 11-10pm
Friday-Saturday: 11-12pm
Sunday: 11-8pm

Felicia's is one of the newer dessert options in downtown Macon, opening in 2017. Whether you put in an order for a decorative cake or stop by the store front for a grab-and-go cupcake, Felicia's won't disappoint. Be sure to try their signature almond flavor. It is a family recipe. Now is the time to make your sweet dreams come true!
365 3rd St, Macon, Georgia 31201
Hours:
Sunday-Monday: Closed
Tuesday-Thursday: 11-5:30pm
Friday: 11-6pm
Saturday: 11-2pm

The Casserole Shop has been serving the Macon community from its catering kitchen since 1993. Four years ago the business expanded to something much sweeter, a full-service bakery. Choose from a variety of baked goods including iced cookies, cakes, brownies, and their most popular doughnuts. Stop by for a mid-morning snack in the cozy dining area or order a scrumptious pound cake for your next event!
4420 Forsyth Road, Macon, Georgia 31201
Hours:
Sunday & Monday: Closed
Tuesday-Friday: 7-6pm
Saturday: 7-5pm

Located in Mercer Village, Z Beans Coffee is the one stop shop for your caffeine and sugar fix. Founded by a Mercer student, Z Beans aims to share ethically sourced coffee from Ecuador alongside delicious pastries with the local Macon community.  Drop in for a few cookies, muffins, scones or a slice of cheesecake. Maybe two!.
1635 Montpelier Ave, Macon, Georgia 31201
Hours:
Monday-Friday: 6am-9pm
Saturday: 7am-10pm
Sunday: 10am-5pm

Located off of Forsyth Road, the Macon Baking Company serves Middle Georgia with freshly made cheese straws, macarons, cream puffs, cookies and cupcakes. Feeling adventurous? Be sure to try their ultimate stuffed chocolate chip cookie for a warm surprise.
4524 Forsyth Rd #204, Macon, Georgia 31210
Hours:
Saturday-Monday: Closed
Tuesday-Friday: 11-5pm