Think big but shop small – that's the message of Small Business Saturday. Falling each year on the heels of Black Friday, Small Business Saturday offers holiday shoppers across the country a chance to cash in seasonal steals and deals while supporting their local economies. 
Launched by American Express in 2010, the vision for Small Business Saturday was to call attention to local shops and merchants between Black Friday and Cyber Monday. This awesome celebration of Main Street America has caught on too. Last year, more than 95 million people in the U.S. shopped locally on Small Business Saturday, pouring millions of dollars back into their own communities.
Throughout the past few years in Macon, small businesses throughout the downtown area, in Historic Ingleside Village, and gift shops in local attractions, museums (and our very own CVB Visitors Center!) will participate in Small Business Saturday, offering special Yuletide deals throughout the day.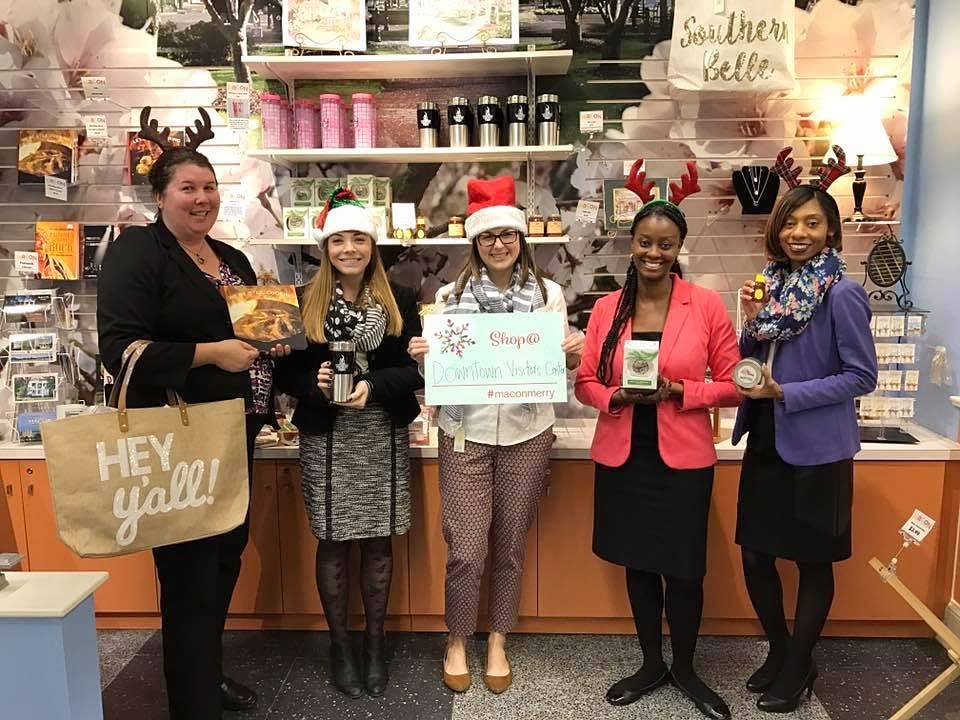 Downtown Visitors Center Gift Shop
To help everyone get in the spirit, I thought I would do what Macon, Where Soul Lives does best: Express it in song. Fire up those jingle bells y'all, and sing along …
Shopping in a Macon Wonderland
Sung to the tune of Walking in a Winter Wonderland
Nummy Buns, can you smell them?
At Travis Jean, where they sell them,
Plus heirlooms and art,
A beautiful start to shopping in a Macon Wonderland.
Gone away is the stress of
Fighting crowds and the mess of
Traffic gridlock … it's nicer to walk
While shopping in a Macon Wonderland.
At The Rookery, we can see what's shakin',
When we're feeling hungry for some lunch.
We can get pimento cheese with bacon …
Followed by the Burger of the Month.
After lunch, we'll go thrifting, at Wear on First,
It's great for gifting.
Oh good, we're in luck, yellow tag-stuff's a buck
All day on Small Business Saturday.
Later on, if we need a
sugar rush or caffeine pick-up
Cake and coffee will be,
Served at Taste and See
All day on Small Business Saturday.
Then we have to dash over to Creter's
And make a stop at William's Fun Smart Toys,
Ingleside has everything you need for,
Moms and dads and little girls and boys.
From clothing stores to antiquing,
There's gifts galore … hey no peeking!
I bought treats for you (and maybe me too),
While shopping in a Macon Wonderland!