Macon Burger Week
The 7 beefiest days known to humankind are back and better than ever with the return of Macon Burger Week from November 1-7. Calling all Burger Lovers, we're talking $10 one-of-a-kind burgers at locations all over town and it's your job to eat as many as you can. Our amazing local culinary experts are cooking up something for everyone in one of Macon's tastiest events of the year. An entire week of stretchy pants, meat sweats and greasy fingers, the moment Macon foodies have longed for. Once you find your favorite burger you better exercise your right and vote for the Macon Burger Week champion!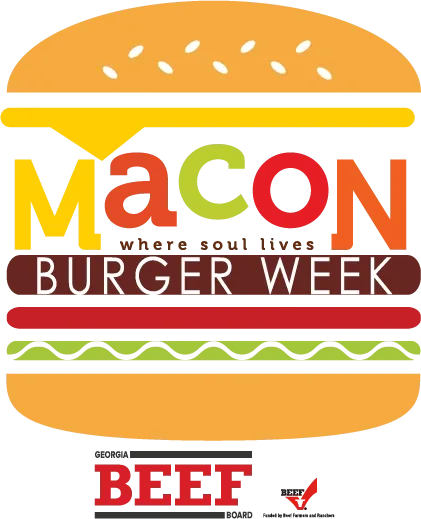 You asked and we answered... Thanks to Maconite Merch, you can now buy your very own #MaconBurgerWeek t-shirt online!
Shirts are $20 and will be shipped to you upon purchase.
COMMANDMENTS FOR BURGER WEEK
1. THEY MIGHT RUN OUT
#MaconBurgerWeek is the beefiest week for Macon. It's drool-inducing beefiness will sure take Macon's carnivores by storm. We actually feel a little bad for the restaurants as they are hit hard by beefeaters across Middle Georgia. So, if a place runs out of their #MaconBurgerWeek burger toward the end of a shift, take it like a man: go back earlier the next day, order your burger, and thank them for working their rumps off. Do Not Be A Jerk To Our Restaurants. We're in this together, Maconites.
2. THERE WILL BE WAITS
People have been talking about #MaconBurgerWeek for weeks. It's become an institution built on the foundation of beefy flavor. We're talking $10 burgers here, people. Don't be surprised if restaurants have waits. If they do, buy a beer and relax, share a post on social media using #MaconBurgerWeek and maybe you'll win some prizes.
3. YOU WILL TIP
$10 brings out the cheap in all of us, but really, you're getting a $12-$15 burger (many restaurants get a little aggressive), so please tip at least 20%. The people who are serving you are working harder during #MaconBurgerWeek than at any other point in the year. A kind word will also be welcome—these people are our friends and neighbors, so Hakuna Matata.
4. YOU REALLY SHOULD BUY A DRINK AND/OR OTHER FOODS
All #MaconBurgerWeek Burgers are a la carte. Sides are extra. While extra purchases are not a requirement, we beefeaters think you should show a little love to a restaurant for going above and beyond to bring you an awesome burger (FOR $10!). Pick up some fries and a drink, and you're sure to enjoy yourself more.
5. SOCIAL SHARING IS CARING
@MaconBurgerWeek is on Facebook and Instagram. Follow us and get up-to-date info on everything #MaconBurgerWeek. Share your burger photos using #MaconBurgerWeek and you might win awesome prizes.
2021 FEATURED BURGERS AND RESTAURANTS
Macon Beer Company

High on the Hog
Two seasoned and flat-topped cooked beef patties topped with white and yellow American cheddar, beer braised onions, crispy pork belly, applewood smoked bacon, hot pepper bacon jam, shredded lettuce, dill pickle slices, with a house made burger sauce on an everything bagel bun 
458 2nd Street
Monday – Thursday 11 AM – 9 PM 
Friday-Saturday: 11 AM – 10 PM 
Sunday: 11 AM – 3 PM 
Grey Goose Players Club

The Goose Hazard
Pasture-raised beef from Piedmont Cattle Company flavored with zesty ranch seasoning, special barbecue sauce, smoked cheddar, fried onion straws and jalapeno bacon for an extra kick!
4524 Forsyth Road
Monday – Saturday 11 AM – 9:30 PM 
Satterfield's Barbeque

BIG "SATT" Burger
Slow-smoked all beef burger with shredded lettuce, minced onions, house-made pickles and American cheese. Topped with house-made, bbq thousand island sauce!
120 New Street
Tuesday – Saturday: 11 AM – 2 PM
Lazy Susan

​
Tika My Breath Away Burger
Beef smash burger with paneer cheese, tikka masala aioli, arugula, tomatillo and GA hot Chile salsa on a pita bun
428 2nd Street 
Wednesday - Thursday 5PM to 10PM 
Friday – Saturday: 5PM - 11PM
Sunday 11AM - 3PM 
Fatty's Pizza

​
Fatty's Taco-zone
Beef, green peppers, onions, tomatoes, lettuce, ricotta, feta and mozzarella cheeses, and pepper sauce wrapped in jalapeno dough
344 2nd Street
Monday – Saturday: 11 AM – 10 PM 
Sunday: 12 PM – 10 PM 
Buffalo's Cafe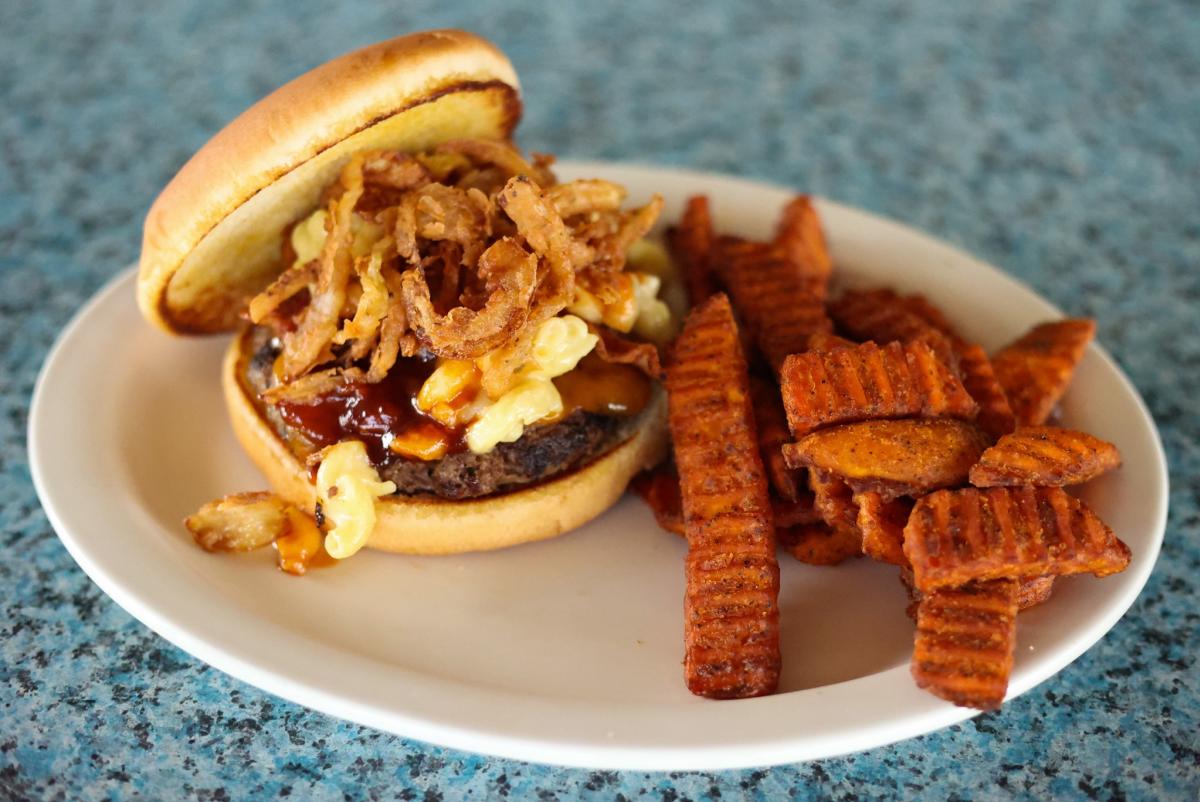 This Year's Winner
½ lb. ground beef patty, cheddar cheese, bacon, home-made mac and cheese, home-made bourbon BBQ sauce and fried onion straws 
5990 Zebulon Road  
Sunday – Thursday: 11 AM – 10 PM 
Friday-Saturday: 11 AM – 11 PM 
Tzango Cocina

The Soppy Juan 
Spicy Chili style Ground beef formed into mini meatball chunks, Sharp Cheddar cheese, Fresh diced onion, bread, and butter pickles all served on a Kaiser roll
336 2nd Street 
Monday -Friday: 11 AM to 2 PM
Tuesday -Saturday: 5 PM to 9 PM
Ocmulgee Brewpub

Bourbon Glazed Burger
House ground beef topped with a sweet bourbon glaze, smoked gouda cheese, creamy feta crumbles, crispy bacon, fresh arugula, and beer braised onions on a toasted brioche bun
484 2nd Street
Sunday – Thursday: 11 AM – 9 PM 
Friday-Saturday: 11 AM – 10 PM
Cashman's pub

Angry Cow Burger 
Beef burger topped with pepper jack cheese, fried jalapenos, bourbon grilled peppers and onions with a sriracha mayo sauce served on a brioche bun
370 Cherry Street 
Monday -Thursday 11 AM – 9PM
Friday – Saturday: 11 AM – 11 PM
Sunday: 12 PM - 9 PM 
Yollah Social Kitchen and Garden

Latin Lover 
Ground beef patty with queso, chorizo, lettuce, poblano, pico de gallo, pickled onions and fried avocado
894 College Street 
Wednesday – Saturday 11:30 AM – 8:30 PM 
Sunday: 11:30 AM – 7:30 PM
Felicia's Cake Factory

 Felicia's Sweet Burger
Vanilla and Chocolate Cake, buttercream icing and sugar cookies
365 Third Street 
Monday – Saturday: 11 AM – 5 PM  
Bianca's Grill

The Mexico Burger 
Six ounce beef patty with homemade chorizo, topped with guacamole and queso fresco
6351 Zebulon Rd
Tuesday – Thursday 11 am – 8 pm 
Friday & Saturday 11 am – 9 pm 
Tommy's Bakery and Cafe

Tommy's Fritter Burger
Beef patty, cheddar cheese, topped with bacon between two apple fritters 
5580 Thomaston Road Ste. 10 
Monday – Friday: 6:30 AM – 6 PM 
Saturday: 6:30 AM – 2 PM 
Sunday: 9 AM – 2 PM 
Bearfoot Tavern

Tavern-ghetti   
Signature seasoned 8 oz patty on garlic Texas toast, with house made spaghetti and marinara smother in melted mozzarella cheese and served with a side of marinara
468 2nd Street 
Tuesday – Thursday 11 AM -2:30 / 5-9 PM 
Friday-Saturday: 11 AM – 9 PM 
Sunday 11 AM – 3 PM
Parish on Cherry

Bleu Bayou Bite
Beef burger sliders topped with ham, provolone and spicy mustard on a sweet Hawaiian roll 
580 Cherry Street
Monday – Thursday 11 am – 10 pm
COVID-19 Statement
We are working diligently to ensure that the safety of the public is our utmost priority.
All restaurants who participate will be required to demonstrate their ability to follow CDC and State guidelines. Many of the participating restaurants will offer a to-go order to help limit large crowds. Also, as a consumer, we ask that you respect these safety measures and adhere to the 6-foot separation rules, wear a mask when asked, and follow any CDC guidelines in place. Our goal is to allow everyone to enjoy this event, while at the same time keeping each other safe during this pandemic. As recommendations from public health and government evolve, these rules may be modified as needed.