Sweet, Savory & A Pinch of Soul: Macon's first-ever bake-off competition is here!
July 23 - 30
Great Macon Baking Week
Leading up to Bragg Jam, Macon's restaurants will be offering their very best baked goods from decadent sweets to savory delights that combine unique fresh ingredients. Get a passport to collect stamps and win prizes, and then vote for your favorite creation from July 23 - 29, 2023. On July 30th head to the Central City Bake Off to try out tasty baked goods from local bakers!
---
Passport Information
Where to get a passport?
You can grab a passport to gather stamps at each business by visiting any of the participating restaurants, Macon Arts Alliance, or the Downtown Visitor Center.
Macon Arts Alliance - 486 1st St, Macon, GA 31201

Downtown Visitor Center - 450 Martin Luther King Jr Blvd, Macon, GA
What to do after collecting stamps?
If you visit AT LEAST 5 businesses and collect their stamps, you can receive some pretty awesome swag! Check out our exclusive Macon Baking Week shirt below.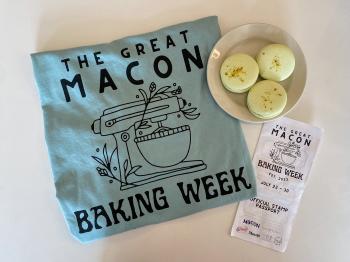 Once your passport is ready, please bring it to the Downtown Visitor Center from July 23 - 29, during normal operating hours. 
Hours: Monday- Friday: 9:00 AM - 4:00 PM, Saturday: 10:00 AM - 4:00 PM
Additionally, if you collect stamps at all 16 restaurants, you will receive a unique award that will give you full bragging rights!
---
Finale Event: Mill Hill Bakers Collective & Macon Arts Alliance Host Central City Bake-Off
Concluding the Baking Week on Sunday, July 30 from 4:00 PM to 6:00 PM  you are invited to the Mill Hill Community Arts Center for the ultimate bake-off competition.
The Central City Bake-off Competition will feature local creations from hobby & cottage food bakers facing off to win the title of Central City Bake-Off Champion. Each baker will offer samples for guests to try so be sure to save your appetite and prepare to indulge to the fullest!
To purchase tickets to the event click here!
If you are a business that would like to participate in the Central City Bake-Off, please fill out the following application.
---
Explore Macon, "Where Soul Lives"
---
Explore interatctive museums, let the outdoors be your guide or bring the kids to our many...