Arts and Culture Tour
See the sights of downtown, smell the aroma of cherry blossoms and soul food, hear music from artists who redefined the industry, and feel all of the excitement, heart, and history in Macon, Georgia.
The knowledgeable staff at the Downtown Visitors Center can help you gather all the information you need during your trip. See the informative timeline, find the perfect souvenir in the gift shop, and watch a brief video about Macon's history. (Give 30 minutes).
Take a journey from Africa to America in this 49,000 square-foot museum dedicated to the art, history, and culture of African Americans. See Wilfred Stroud's nine-panel mural that chronicles the struggles and triumphs of African Americans, enter the brilliants minds of African American inventors and entrepreneurs, and more. (Give 1.5 hours).
Step back in time and explore over 17,000 years of history at this prehistoric American Indian site. Explore over 2,000 artifacts in the museum or venture outdoors to see the Earth Lodge with its original floors dating back to 1015. Climb to the top of the Great Temple Mound for a beautiful view of Downtown Macon before walking around the trails. (Give 1.5 hours).
Enjoy true Southern fare inside at our Peachtree Café, or if it's the great outdoors you want, enjoy your meal alfresco. You will taste true Southern Hospitality in every mouth-watering bite. While you're there, explore the large orchard that's been dedicated to planting, growing, and harvesting the best-tasting peaches and pecans in Georgia since 1908. (Give 2.5 hours).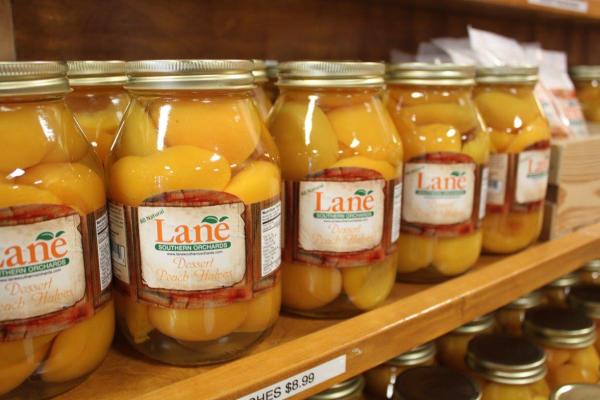 Enjoy the food, fun, and atmosphere of Macon's neighborhood tavern. From mouth-watering burgers to hearty soups, Bearfoot Tavern has something for everybody. Catch your favorite sports team on one of their many high-def, flat screen televisions. (Give 1.5 hours).
Producing six major productions each year, Theatre Macon features comedies, dramas, and musicals throughout the year.
Need additional tour suggestions for day trip and regional destinations? The Macon-Bibb County CVB will be happy to assist you!