Labyrinths 
Labyrinths are often walked to reflect or pray as a form of meditation. While children may frolic and enjoy following the path, they can also serve for somber remembrance. Macon has multiple labyrinths that serve as places of both peace and healing. These are perfect sites for self-discovery.
Rose Park Labyrinth
This labyrinth is a free gift to the city from Navicent Health that is located at the intersection of Orange Street and Rose Street near Mt. DeSales School and Navicent Health.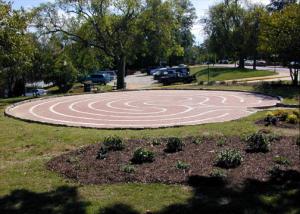 Mulberry Street United Methodist Church
In the middle of the hustle and bustle of downtown lies a true treasure. The front of the church offers a labyrinth that is surrounded in history as the church origins date back to the early 1800s. This labyrinth offers a place for meditation in the middle of some of Macon's finest attractions.
Park Memorial Labyrinth
Located at Park Memorial Methodist Church, this stone labyrinth offers a peaceful path to all who visit.