This is Your Guide to Bragg Jam 2019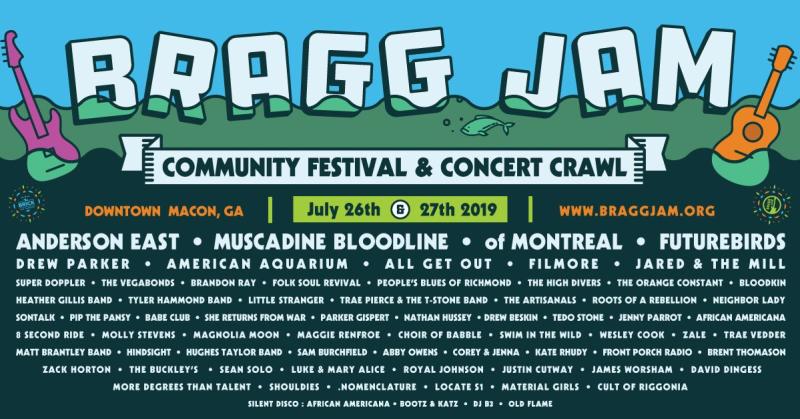 July 26 -27, the Bragg Jam Community Festival and Concert Crawl will make its 21st annual debut. In our very own, Macon, GA, you'll spot over 60 acts playing across multiple stages in Downtown Macon. From local acts to national headliners, a multitude of venues will showcase their sound to music lovers from Georgia and beyond.
This is How I #BraggJam
Filled with music, entertainment, and arts, this two-day event will be sure to appeal to everyone. On Friday, the night opens with a variety show of musical ensembles featuring headliners of Montreal and Filmore. On Saturday morning, Families are invited to the free daytime event, Arts and Kids Festival, where they can create, perform, and play in Macon's Cherry Street Plaza. On Saturday night, the Legendary Concert Crawl, Macon's favorite summer experience, covers a spectrum of genres from electronic to rock n' roll. 
Concert Crawl
Once sundown, Bragg Jam's Concert Crawl delivers a plethora of featured bands including Anderson East, Muscadine Bloodline, of Montreal, Futurebirds, American Aquarium & more. From the Hargray Capital Theatre and The Crazy Bull, to the Hummingbird Stage & Taproom and Grant's lounge, over 10 venues will headline these acts.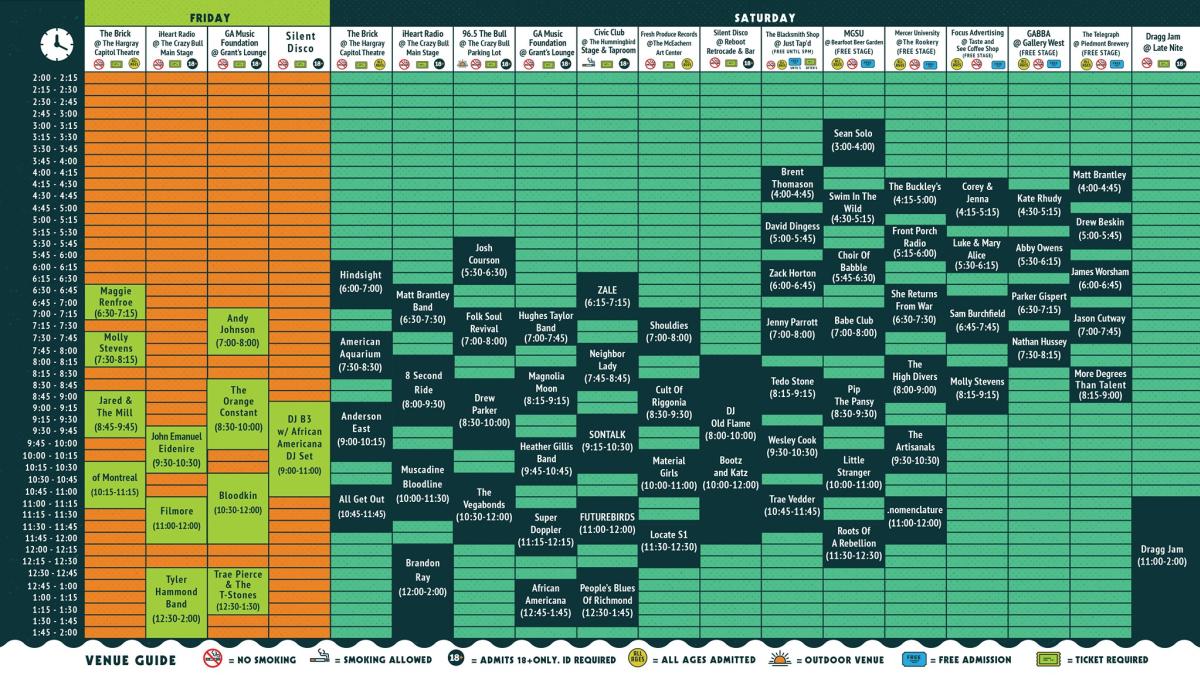 Get the Deets on Stage Locations
The Brick
@The Hargray Capital Theatre
382 Second Street
iHeart Radio
@ The Crazy Bull
Main Stage
473 Second Street
 96.5FM
@ The Crazy Bull
Parking Lot Stage
473 Second Street
 The Civic Club
@ The Hummingbird
430 Cherry Street
 Silent Disco
@ Reboot Retrocade & Bar
566 Cherry Street
 The Telegraph
@ Piedmont Brewery
450 Third Street
Focus Advertising
@ Taste and See Coffee Shop
546 Poplar Street
GABBA
@ Gallery West
447 Third Street
Blacksmith Shop
@ Just Tap'd
488 1st Street
Dragg Jam
@ Late Nite
420 Martin Luther King Jr. Blvd
Mercer University
@ The Rookery
543 Cherry Street
Fresh Produce Records
@ McEachern Art Center
332 Second Street
Macon Georgia State University
@ Bearfoot Tavern
468 Second Street
Bragg Jam Eats
Don't go hungry! Over 10 Downtown Macon restaurants will be staying open to sell late-night food for Bragg Jam. Here's a list of deals you don't want to miss.
Cashman's Pub | 370 Cherry Street
Come on in for live music (no cover or Bragg Jam tickets
necessary), great food and drinks.
Full menu 11am-11pm, Limited Late-Night Menu
(Wings + Fries) until 2am both nights.
Doughboy Pizza | 518 Cherry Street
6-piece wings ($7.95). After 10pm: $3 Pepperoni + Cheese Slices
and $15 whole pizzas.
Open until 3am
Famous Mike's | 524 Poplar Street
Cash only! Enjoy a Mike's Philly wrap ($8), hamburger ($5),
cheeseburger ($6), hotdog ($2.50), or cinnamon roll ($2)
Friday and Saturday: Open from music start until???
 Kudzu Seafood Company | 512 Poplar Street
Shrimp Cocktail ($8), Muffuletta Sandwich with Kudzu
Chips ($8), Kudzu Skins (pork skins) ($2)
Sat. Only. Available until 10pm or until we run out!
La Bella Morelia | 524 Mulberry Street
Check out La Bella for their taco special.
Open until midnight!
Ocmulgee Brewpub | 484 2nd Street
In-house ground beef burger w/red pepper jam, bleu cheese
& fried mushrooms served w/fries ($12).
Also try out their Kolsch-style beer, "Minute of Your Time"
Friday and Saturday from 11AM - 11PM
Oliver's Corner Bistro | 496 Second Street
Chicken Salad Croissant w/Lettuce & Tomatoes or
Italian Sausage Hoagie w/Peppers, Onions, & Spicy Mustard
$10/plate, served with house chips
Grab and go options available 4p-11p Fri & Sat
Spud Dogs | 490 Cherry Street
Any Two Classic Dogs with Side & Drink ($8)
Friday and Saturday 8am-9pm
Pizza, panini, or salad and fountain drink ($10). All beers $3.
Friday and Saturday 11am-10pm
Pastries and 16oz drink combo ($5)
Friday until 11pm, Saturday until 12am
The final eleganza extravaganza of the two-day weekend is a first in Bragg Jam's herstory. The Legendary Erica Chanel will host the inaugural annual Dragg Jam performance event at Late Nite. The event features performances by drag artists from across the state. Feel the fantasy when doors open at 9 P.M., with the event starting at 11:30 P.M. With a Bragg Jam wristband, admittance is free, or pay $10 at the door.