Whether you have a sweet tooth or are looking for a unique date night with mind-blowing flavors, here are a few tasty picks that feature Macon's boldest dishes and treats! Before you know it, the International Cherry Blossom Festival will also be here, and Visit Macon will have a tool that makes it easy to find all of the city's pink drinks and food! Keep reading to learn more!
Ramen in the soul food capital of Georgia may seem unusual but Kinjo has made it their priority to bring authentic Asian cuisine with a twist to the central Georgia area. Kinjo introduces southern influences to the fusion dishes such as including braised collards in the Tonkatsu Ramen. The Korean Fried Chicken sandwich includes a sweet & spicy gochujang sauce served with a side of crispy tater tots. Be sure to also try their appetizers like the Ahi Tuna or fried Rangoons!
A bar that specializes in desserts...count me in! While Decadent does not sell craft beers, their homemade desserts and delicious sips have gained the attention of our visitors and locals alike. There's something for everyone here such as giant cinnamon rolls, hot cookie skillets, cheesecakes, cannolis, cupcakes, cookies, and so much more! Grab it to go, call in a custom cake order, or chow down inside with a cup of coffee. The options are endless here!
Pho is a Vietnamese dish featuring slow simmered broth, rice noodles, and a variety of meats, and usually has add-ons like bean sprouts. Top it with a little sriracha and you'll be returning to this popular dish again and again. Pho Cali opened in North Macon around 2019 and is operated by a local couple. Expect an inviting atmosphere with friendly staff who are eager to share their culinary talents with you! 
Cake n' Shake
5577 Thomaston Rd Suite 100B, Macon, GA
A Georgia-based ice cream and snack parlor that has now expanded to Macon is changing the game when it comes to EXTREME milkshakes: Cake N Shake is now open in North Macon! Even the cups have a lining of sweetness along the rim! The menu features original milkshake creations topped with cupcakes, cookies, and cheesecakes. The presentation is just as fantastic as it tastes! They also serve a variety of other desserts like ice cream sandwiches, waffle desserts, boba, and more!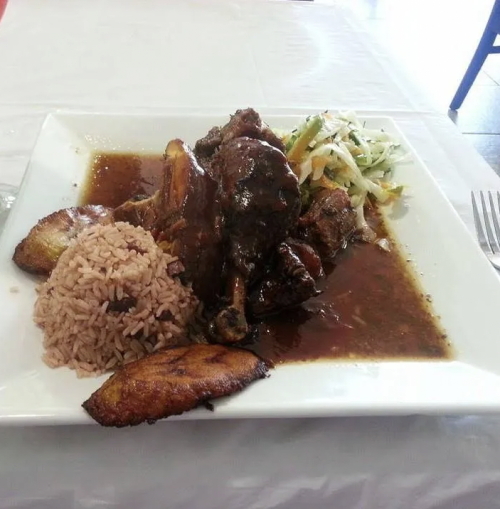 Tropical Flava
2396 Ingleside Ave, Macon, GA
When it comes to spices and vibrant flavors, it doesn't get much better than Jamaican cuisine! Tropical Flava offers the well-recognized Jamaican specialty, jerk chicken! This is a slow-cooked poultry dish that is covered in spices that have a little bit of a kick! There are also traditional sides such as fried plantains, Festival(Jamaican Hushpuppies), and beans and rice. Located in the historic Ingleside village, let your taste buds soar, and after your visit, splurge at the new bakery located across the street! (Next listing)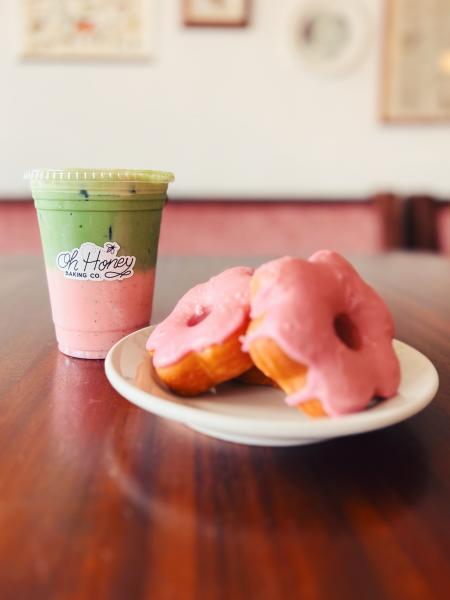 Coffee, brioche donuts, macarons, cupcakes, and cookies: Oh Honey Baking Co. is one of the newest additions to the Macon bakery scene. Oh Honey has become a local favorite thanks to their delicious sweets, beautiful decor, and cozy seating. It's a great area to fuel up on a cup of joe or bite into a fresh baked good including sandwich options!
Maybe you want a cute custom Valentine's treat for your significant other? Look no further as De'Lani Delights has you covered! They specialize in a diverse selection of cheesecakes and during the season of love they also offer custom boxes that include options like chocolate strawberries, breakable chocolate hearts, chocolate dipped pretzels, and strawberry heart cheesecakes. There are even themed boxes for children. Be sure to look at the deadline date to order some of the larger box options. Don't worry though as there will be a few grab-and-go treat box options as well. 
Kimchi is a fermented Korean dish that can include a variety of vegetables such as cabbage and usually has some heat added from chili flakes or chili paste. Macon boasts a wide assortment of international cuisine and Kimchi Factory is a prime example of our diverse culinary scene. Many of their dishes come topped with Kimchi or it's used as a base. There are also several other Korean specialties like Bulgogi and Bibimbap. We also recommend also trying their many different ramen options like beef, chicken, and seafood! 
Cookies have to be the most universally beloved dessert! It's the perfect snack and at Bonnie's Cookies, there's a flavor for everyone. From nuts and fruits to decadent chocolate, prepare to splurge on these delicious snacks!
Little India
402 Cherry St, Macon, GA 
Little India, run by a local family, offers authentic Indian curry that comes in a variety of spice levels. From Mild to Extra Spicy, customize your curry to your liking! Their butter chicken and garlic naan are a local favorite but they also offer vegetarian options that include cottage cheese and vegetables as the base. We also recommend the Chicken Tikka Masala and Vegetable Samosa!

COMING SOON - Pink Provisions Trail App
The International Cherry Blossom Festival not only brings wonderful shades of pink to our streets but our businesses go all out for the festivities! Restaurants and bars across the county will soon have specials that embrace the cherry blossom festival. Visit Macon's Pink Provisions Trail on our Tour Macon mobile App will track all of the Cherry Blossom specials! We also invite you to vote for your favorite pink drink through our Drink The Pink contest! Information on how to vote will be included on the Pink Provisions app. Restaurants will not start their specials until the International Cherry Blossom Festival which is from March 17th to the 26th this year.