Cherry Blossom Festival in Macon
With over 350,000 Yoshino cherry trees, Macon becomes the pinkest city in the world when the trees are in full bloom. With average peak bloom period happening the second week of March and lasting about 10 days, there is plenty to see and do during this beautiful time in Macon. This year's International Cherry Blossom Festival is March 19 - 28, 2021.

---
The Cherry Blossom Trail
During the festival we recommend driving through the Cherry Blossom Trail at your own time and in the comfort of your own vehicle. Consider taking the scenic route to view Macon's 350,000 plus Yoshino cherry blossom trees. The trail, which runs from Carolyn Crayton Park to Bass Road, provides the best view of the beautiful blossoms.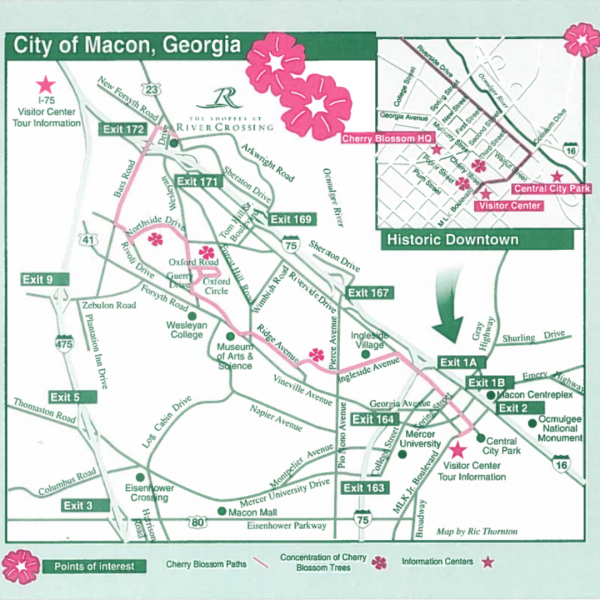 Click here for a downloadable version of the Cherry Blossom Driving Trail.
---
invalid widget [plugins_collections_template_custom_featured_events] [custom_featured_events]
History Of The Trees
The Yoshino cherry trees have been a city staple for many years. Reaching peak bloom for only 10 days, it seems that the blossom leave as quickly as they arrive. Why is Macon home to so many of these amazing trees? It all started in 1949 when Macon native William A. Fickling discovered a unique and unrecognized tree blossoming in his yard. Later discovering it was a Yoshino cherry tree, Fickling and his family freely distributed the tree throughout the city. Nearly 40 years later, Carolyn Crayton, another Macon native, created the Cherry Blossom Festival as a way to celebrate the principles of "love, beauty, and international friendship." To learn more about the Festival's history, click here.
invalid widget [plugins_collections_template_custom_featured_callout] [custom_featured_callout]
invalid widget [plugins_collections_template_custom_postcard] [custom_postcard]
Plan Your Stay
invalid widget [plugins_collections_template_custom_list] [custom_list]
The Pinkest Party On Earth!
"Cherry Blossom Party Time"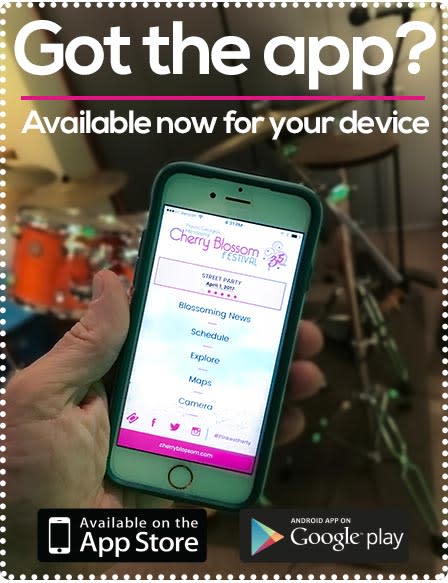 DOWNLOAD THE APP FOR IOS AND ANDROID
The new Cherry Blossom Festival app is now available, giving you a better experience during our 10-Day event.
FEATURES
Get the latest Cherry Blossom News
Explore event schedules happening all over Macon
Share your favorite Cherry photos
Find maps to where events are going on
Get answers to FAQ's
Click your platform button below to go directly to the download site
invalid widget [plugins_collections_template_custom_tile_boxes] [custom_tile_boxes]
invalid widget [plugins_collections_template_custom_full_width_callouts] [custom_full_width_callouts]