Farmers Markets in Macon
Macon's hidden gems are our Farmers and Crafts Markets. Because we're in the land of sun and vegetation, we are never too far from fresh produce. There are plenty of opportunities to buy Georgia Grown products at one of our markets. Our Macon State Farmers Market has more than 12 vendors regularly selling fresh produce and two nurseries. There are also two restaurants serving barbecue and soul food, a bakery, and a butcher shop. It's the only market in the city that is open every day, excluding major holidays.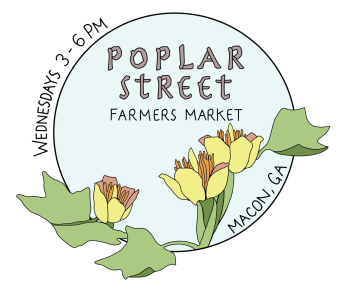 The Poplar Street Farmers Market happens every Wednesday from 3:00 PM to 6:00 PM in the heart of downtown! Head to Poplar Street weekly to find local seasonal fruits, veggies, meat, eggs and flowers. You can also find fresh bread, pastries, and artisanal goods. Rain or shine event that is held year-round.
At the Wesleyan Market on Wesleyan College's campus, you can enjoy food, art, music, educational displays, animal adoptions, and demonstrations on pottery or gardening. This outdoor market is held every second Saturday of the month, and the fourth Saturday during the summer months.
Of course, we cannot forget Smiley's Flea Market, Central Georgia's largest yard sale, where you will always find good bargains and family fun! Check out Smiley's on Saturday and Sunday from 6 am to 5 pm.