The Allman Brothers Band in Macon
The Allman Brothers Band (ABB) was formed in Jacksonville, Florida in 1969 by Duane Allman (slide & lead guitar), Gregg Allman (vocals, organ, songwriting), Dickey Betts (lead guitar, vocals, songwriting), Berry Oakley (bass guitar), Butch Trucks (drums), and Jaimoe (drums). Known as the founders of Southern rock, ABB signed with Phil Walden and Capricorn Records in 1969. Trying to get their start and having little money, band members would often eat at H&H Soul Food where their friend, Mama Louise would feed them. Whenever a road trip would end, the band would head to H&H for some Southern home cooking from their second mama. You can stop by and eat at H&H Soul Food still today. Although Mame Louise has since retired, she can still be seen at the restaurant from time to time.
In 1970, ABB played the Second Atlanta Pop Festival in Byron, Georgia. Held in a soybean field across from the Middle Georgia Raceway, it brought in hundreds of thousands of people and featured headliners like Jimi Hendrix and B.B. King. ABB opened and closed the three day festival. Their breakthrough album, At Fillmore East (1971), is considered one of best live albums ever made ranking #49 on Rolling Stone's list of Best Albums of All Time.
Shortly after At Fillmore East was certified gold, Duane Allman was killed in a motorcycle accident in 1971 at the age of 24 followed by Berry Oakley one year later also at the age of 24. Duane and Berry are buried side-by-side at Macon's' Rosehill Cemetery. Despite two significant losses, the band gained even greater success in 1972 with the release of the LP Eat a Peach reaching #4 on the charts.
Riding off the success of Eat a Peach, ABB got their first #1 album titled Brothers and Sisters in 1973. The young boy seen on the cover of this album is Vaylor Trucks, son of drummer Butch Trucks with the back cover featuring Brittany Oakley, daughter of Berry Oakley.
From 1970 – 73, members of ABB lived at what's now called The Allman Brothers Band Museum at The Big House. There you can see the largest collection of ABB memorabilia in the world including Duane's "Goldtop" Les Paul (featured on Eric Clapton's Layla) Gregg and Cher's pool table, a recreation of Duane's bedroom, and more.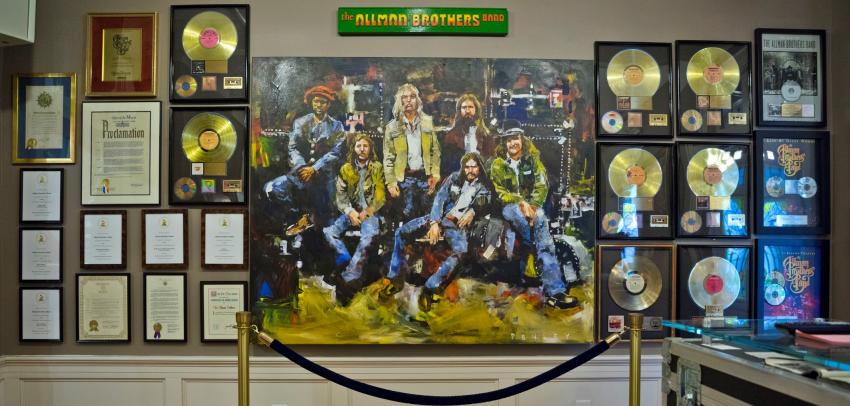 The band broke up and got back together several times throughout the 1970s, 80s, and 90s. Beginning in 1989, Kirk West became Tour Manager for ABB staying with them for over 20 years. As a talented photographer, West shot 10 ABB LP, CD, and DVD covers. You can see his ABB photos and other memorable music artists at Gallery West in Downtown Macon.
The band played their final show in 2014 at the Beacon Theatre in New York City. Throughout the years, music greats like Chuck Leavell, Derek Trucks, Warren Haynes, Allen Woody, and more joined the band. Both Butch Trucks and Gregg Allman passed away in 2017. Gregg is buried across from his brother and Berry at Rosehill Cemetery. Jaimoe and Dickey Betts are the two surviving original ABB members.