Otis Redding in Macon
Born Otis Ray Redding, Jr. in Dawson, Georgia on September 9, 1941, Redding's family moved to Macon when he was five years old. In the late 50s, Redding met a local guitarist, Johnny Jenkins, who invited him to join his group called The Pinetoppers. The Pinetoppers were managed by Phil Walden, who would later manage The Allman Brothers Band. After a few years of working odd jobs and trying to make it as an artist, Redding recorded These Arms of Mine in 1962. The song was Redding's first hit, reaching #20 on the R&B chart in 1963.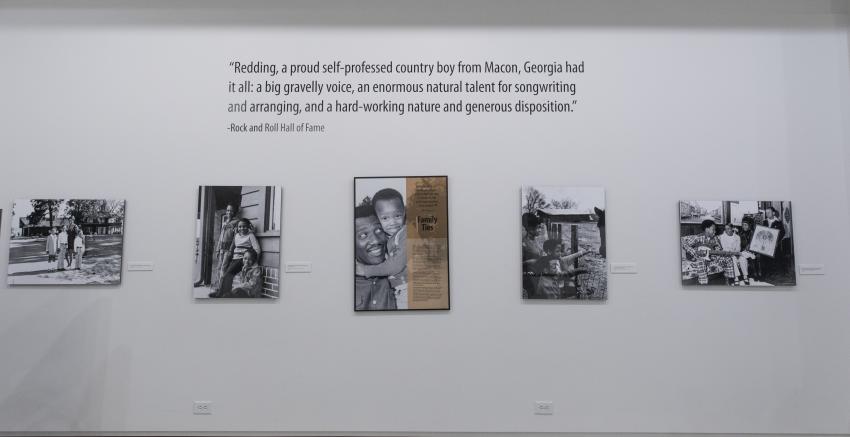 Known for his outstanding stage presence and soulful voice, Redding released several hits like Satisfaction, I've Been Loving You Too Long, and Shake. In 1967, Redding performed at the Monterey Pop Festival, introducing the singer to white rock fans. Soon after on December 6, Redding wrote (Sittin' On) The Dock of the Bay. Four days later on December 10, Redding and four members of his backup band, The Bar-Keys, were killed in a plane crash. Redding was 26 years old. (Sittin' On) The Dock of the Bay was released on January 8, 1968 topping the charts on March 16 and eventually selling more than 2 million copies.
His music continues to inspire artists today.Tramp (1967), written by Redding and Carla Thomas, was sampled by Salt N Pepa (1987). His song Try A Little Tenderness (1966) was sampled by Kanye and Jay-Z on their song Otis from Watch the Throne (2011). The Food (2004) by Common featuring Kanye West samples Nothing Can Change This Love (1965).
His legacy lives on today through the Otis Redding Foundation. Established in 2007 by Redding's wife, Zelma Redding in her husband's honor, the Foundation has created educational awareness programs in the arts and humanities for youth. Every June, The Otis Music Camp allows campers to experience a high level of music conducted by key leaders in the industry. Campers work for two weeks to write, record, & perform their own songs at the camps' final. The Otis Redding Center for Creative Arts offers vocal, piano, strings, and percussion lessons & supports young dreamers through scholarships. Opening in Fall 2018, the DREAM Academy Charter School will be a statewide education facility that will empower students to maximize their full potential through integration of arts & academics.