Macon' It to the Big Screen: Film in Macon, Ga.
You can find a quick look at some of the locations that served as a filming set in Macon below OR find an interactive, accessible mobile app that takes you through over 40 film set locations in Macon by downloading the "Tour Macon" app today! This self-guided app serves as a companion for exploring Macon's amazing architecture, music history, food, and more. Download the "Tour Macon" app by clicking your app store button below and check out the "Macon Film Trail" after you download the app!
Download the Macon Music Trail by installing the "Tour Macon" mobile app today!

---
Choose your favorite film genre!
Thriller | Drama | Comedy | TV Show
Macon, Georgia has served as the backdrop for numerous film productions. Our tree-lined streets, beautifully restored downtown area, and our rich history make Macon a great place to film. As you tour Macon, you may have a sense of déjà vu  as you recognize scenes from popular movies throughout the city. 
Thriller
The 5th Wave (2016) 
Four waves of fatal attacks have left Earth in ruin and Cassie is on the run in an attempt to save her younger brother. Against a backdrop of terror and distrust, she prepares for the deadly fifth wave. Teaming up with a mysterious young man, the two must learn to trust each other to find Cassie's brother and survive the fifth wave. Produced by Columbia Pictures. 
If you go...The bus explosion scene took place on Cotton Avenue and parts of Cherry Street in Downtown Macon.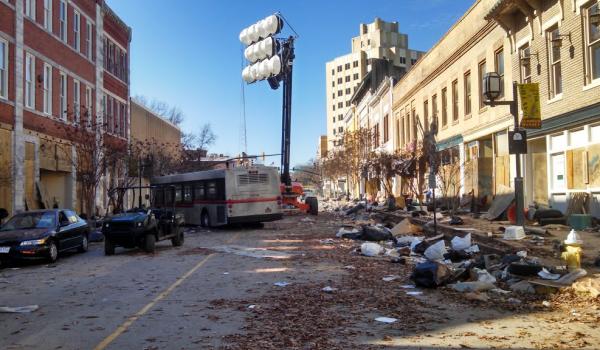 The Crazies (2010)
This hair-raising film is about a small town in Iowa whose water supply is accidentally infected with the "Trixie" virus. After an incubation period of 48 hours, the virus gradually transforms the victim's mental state into that of a depraved killer. Produced by Participant Media and Abu Dhabi Media. 
If you go...The movie's car wash scene was filmed at Macon's Fountain Car Wash located on Hardeman Avenue. 
Drama
Need for Speed (2014) 
After serving a two year prison sentence for a crime he didn't commit, Tobey Marshall sets out for revenge against his ex-partner. His only chance to take him down is to beat him in a high-stakes road race. But before he can get there, he must successfully escape an army of cops and bounty hunters. Produced by DreamWorks and Reliance Entertainment.
If you go...Several street car racing scenes were filmed on Magnolia Street, parts of Martin Luther King, Jr. Blvd., and Hardeman Avenue in Downtown Macon.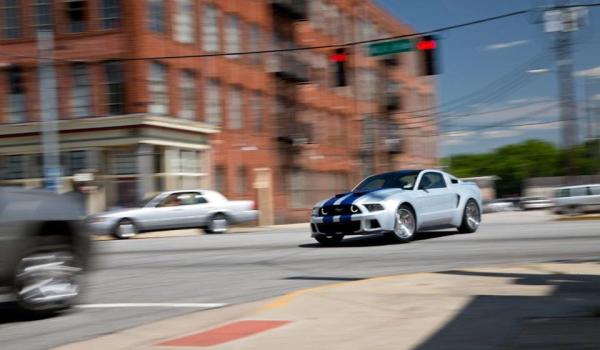 42 (2013) 
This biopic tells the life story of baseball player Jackie Robinson and his history-making signing with the Brooklyn Dodgers as the first African American to play Major League Baseball. Produced by Legendary Entertainment. 
If you go....Visit Luther Williams Field in Carolyn Crayton Park. Second Street, also featured in the film, was beautifully transformed into 1940s Brooklyn. The Macon Terminal Station stands-in as an airport. The photo below was taken at Third and Plum Street.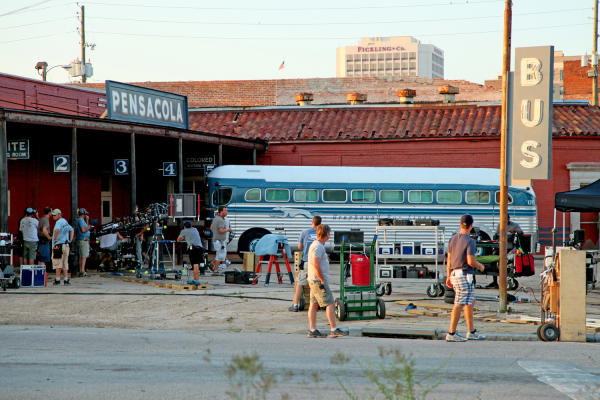 The Trouble with the Curve (2012) 
Gus Lobel, known as one of the best baseball scouts in the league, realizes his career may be coming to an end. Refusing to be benched, he embarks on a quest to sign the country's hottest batting prospect. With help from his estranged daughter Mickey, the two make new discoveries from their shared past that could change their futures forever. Produced by Warner Brothers and Malpaso Productions. 
If you go....Filmed entirely in Georgia, the film shot many scenes in Macon, notably at Luther Williams Field and the bar and restaurant, Northside Cheers. 
A Trip to Bountiful (1985) 
Follow the story of an elderly woman, Mrs. Watts, whose determined to visit her hometown of Bountiful despite her son's attempts to keep her away.  After learning that trains no longer travel to Bountiful, Mrs. Watts takes a bus instead where she meets a young woman with whom she shares stories of her beloved childhood home. Produced by Lifetime. 
If you go....Visit the Macon Terminal Station where the bus station scenes were filmed. 
Comedy
Wise Blood (1979) 
U.S. Army veteran Hazel Motes decides to make his way in the world by impersonating a priest and starting his own religion. Things get complicated as he starts to gain followers and forms his own church in a small town. Produced by Mca Home Video. 
If you go....An adaptation of the work of famous Georgian, Flannery O'Connor, Wise Blood was filmed almost entirely in Macon. The Confederate statue at the intersection of Second and Cotton Streets in front of Mulberry Street is featured in the film as well as Martin Luther King, Jr.  Blvd. 
The Bingo Long Traveling All Stars and Motor Kings (1976) 
A top baseball pitcher, Bingo Long is tired of how his Negro League team owner treats him. So, Bingo sets up his own lineup of big-hitting players in hopes of playing in the majors. 
If you go....Visit Luther Williams Field inside Carolyn Crayton Park where several of the baseball scenes were filmed. 
TV Show
Brockmire (March 2017)
An IFC Netflix Original Series, Brockmire follows the story of a major league baseball announcer who has an embarrassing and public meltdown live on the air. Decades later, he decides to reclaim his career in a small town. 
If you go....Visit historic Luther Williams Filed, the second oldest baseball field in the country, and see where some of the baseball scenes were filmed for the series.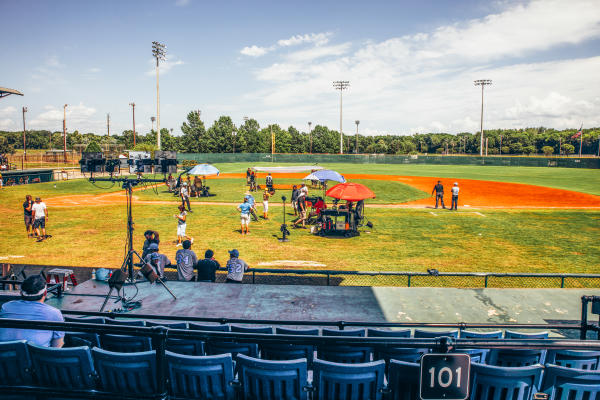 The Originals (2015) (Season 3, Episode 4)
The TV show, a spin-off of The Vampire Diaries, centers around Klaus, from the "original" family, as he travels to New Orleans to investigate a plot against him. In hopes of reclaiming the city, Klaus most form an uneasy alliance with the witches to try and steal the kingdom of New Orleans back again. Produced by The CW. 
If you go....The filming of scenes for the television show took place at The Hay House.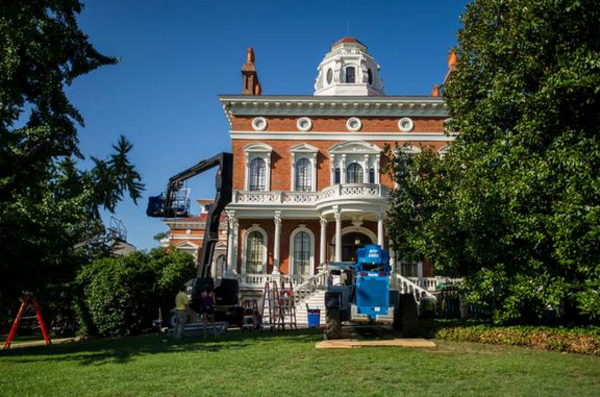 The Vampire Diaries (2014) 
Elena Gilbert's life is turned upside-down when she realizes the guy she's fallen in love with is a vampire. Life only gets more complicated when her boyfriend's older brother, Damon, comes to town to wreak havoc and seek revenge against his younger brother. 
Witches of East End (2013) 
This TV show follows the story of a mother and her two adult daughters who lead quiet, uneventful lives. However, after one of the daughters gets engaged to a young, wealthy man, a series of events forces her mother to reveal a hidden secret; both daughters are their family's next generation of witches. Produced by Lifetime. 
If you go....Several scenes from the television show took place at The Hay House.
Jason Aldean "Gonna Know We Were Here" Music Video (2015)
Jason Aldean, a Macon native, filmed his music video,"Gonna Know We Were Here" in Downtown Macon at the Cotton Avenue and Second Street intersection and his Alma Mater, Windsor Academy. There were a few hundred extras that volunteered to be in the video.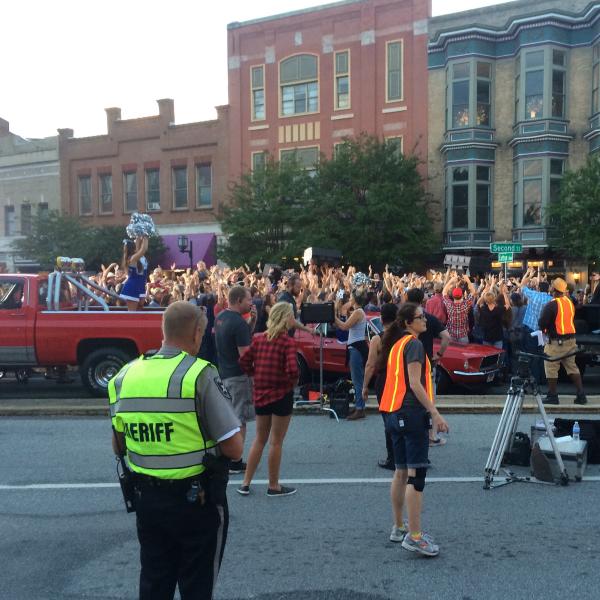 About Film in Macon
Macon Film Commission 
Georgia has had a long and distinguished history of filmmaking that began as early as 1912, and the Central Georgia region has been the location of choice for a number of films and TV projects. The Macon Film Commission is here to act as a liaison to filmmakers looking to use the Central Georgia region as a potential location. Interested in filming in Macon? Please, contact Macon Film Commission at 478-227-5281.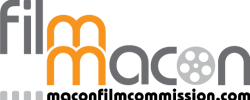 Surrounded by a rich musical and southern culture, the Macon Film Festival celebrates independent films while promoting filmmaking for entertainment, inspiration, education and economic development. The festival features film screenings, celebrity guests, special screening, and workshops throughout the weekend.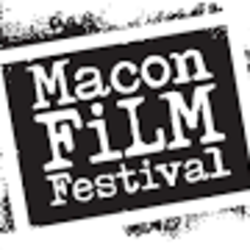 Every month, Macon Film Guild presents foreign, independent and art-house movies that would otherwise never be seen in Middle Georgia. It screens 12 narrative features and four documentaries each year at the historic Douglass Theatre. Since its founding in 2000, the Guild has hosted over 250 Middle Georgia film premieres, nurturing an audience interested in award-winning movies of artistic and intellectual substance and global reach.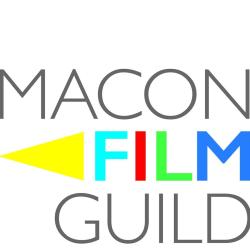 Macon-Bibb County has been certified as a Camera Ready Community by the Georgia Film, Music, and Digital Entertainment Office.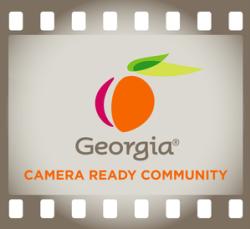 Photos provided by Matt Odom Photography and Macon Film Commission.